Lecture | VVIK lecture
Conservation and study of the Pahari collection of drawings and paintings
Dr. Amélie Couvrat Desvergnes
Date

Thursday 23 February 2023

Time

Serie

Address

Room

007. The lecture will be followed by drinks in the basement of Matthias de Vrieshof 3.
The Museum Volkenkunde in Leiden has 134 drawings and paintings from the Punjab hills in India (today Himachal Pradesh) commonly known as "Pahari miniature paintings". The collection, which dates from the late 18th to the mid-19th century, covers a wide variety of themes (Hindu epics, vernacular poetry, portraits of rulers and historical figures) and echoes the interactions between local traditions and Mughal culture. In addition, some of the works reflect Western influences in the production of so-called "company paintings" made for Europeans. The entire collection is an extensive visual resource that illustrates the history and traditions of the region and showcases South-Asian craftsmanship.
The project that is the subject of this presentation began in 2020 and has four components.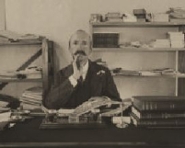 First, research was conducted on the provenance of the collection and how Jean-Philippe Vogel built his collection while working at the ASI between 1901 and 1913. While his work as a Sanskritist, epigraphist, and archaeologist is world-renowned, his collection of Pahari works is unknown to the general public and the research community.
Second, the themes, functions, and significance of selected drawn and painted folios were examined. The representations were thus examined and re-articulated within the larger framework of international collections.
Next, the materials and techniques used by the Pahari artists were studied. Particular attention was paid to the types of handmade paper used and the so-called Sialkoti paper.
Finally, conservation treatments were carried out to make the works available for future exhibitions and research. The presentation aims to give an overview of the project's four aspects and provide the public with a lively presentation of Pahari's visual culture.
Amélie Couvrat Desvergnes
Since 2019, Amélie has been a freelance paper and book conservator and researcher specialising in Islamic and South Asian manuscripts and works on paper in the Netherlands. In 2002, she obtained her master's degree in conservation at the University of Paris I Panthéon- Sorbonne. From 2002 to 2011, she worked as an independent professional in France. From 2012 to 2017, she was a permanent conservator at the Qatar Museum of Islamic Art. From 2017 to 2019, she worked as a paper conservator at the Rijksmuseum in Amsterdam. She has also taught at the Master of Conservation in Paris and Amsterdam, provided training and workshops, and lectured on the conservation and materiality of Islamic and South Asian works. She has written several articles in conservation, scientific and interdisciplinary journals. She is currently conducting a conservation and research project on the Pahari drawings and miniature paintings from the Museum Volkenkunde in Leiden.