Frederic Lens: building bridges in biodiversity research
Four green research institutes in Leiden are joining forces to integrate evolution and biodiversity research, at local and at the national level. Pivot in this collaboration is Frederic Lens.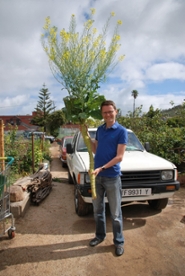 'Fantastic research is being done at the Institute of Biology Leiden, the Institute of Environmental Sciences, the Naturalis Biodiversity Center and the Hortus botanicus Leiden. But there is certainly still a lot to be done through new multidisciplinary projects between the institutes', says Frederic Lens. 'That is what I want to commit to.'
Meeting informally
Lens works as a group leader at Naturalis and, since 1 February, also part-time at the Institute of Biology Leiden (IBL). He is committed to further integrate Leiden evolution and biodiversity research. For the time being, he wants to connect researchers through online presentations and Journal Clubs, but he is especially looking forward to live meetings: 'Meeting each other informally in person is still a more fun and efficient way to stimulate new collaborations.'
Manage and restore biodiversity
Lens will also seek collaborations outside of Leiden. He wants to connect Leiden research to the Center of Excellence of Netherlands Biodiversity Research, which was established at the end of 2020. This consortium of Naturalis Biodiversity Center, the Netherlands Institute of Ecology (NIOO-KNAW), the Royal Netherlands Institute for Sea Research (NIOZ-NWO) and Westerdijk Fungal Biodiversity Institute-KNAW focuses on a national approach to scientific biodiversity research in the Netherlands and the Caribbean Netherlands. Lens explains: 'If we join forces, we can gain more fundamental knowledge for the effective management and restoration of our biodiversity in the Kingdom of the Netherlands.'
Central position
Lens' appointment at the IBL is a logical choice, according to Gilles van Wezel, Scientific Director of the IBL: 'The IBL occupies a central position from which Frederic can work. On the one hand, there is the evolution and biodiversity research together with the three biological institutes, and on the other hand, there is the molecular-cellular research we conduct together with other institutes within the faculty, such as the LIC and LACDR, and with the LUMC. It is perfectly in line with our general research theme "Harnessing Biodiversity for Health", or in other words, the use of biodiversity for a healthy and sustainable society.'
Wood formation in plants
Lens has been working at Naturalis since 2014, where he studies the evolution of wood formation in flower plants. 'I am fascinated by the endless variation of woody and non-woody or herbaceous growth forms on flower plants. Many plant species became woody independently during their evolutionary history, but why?' It is a question that already preoccupied Charles Darwin during his expeditions in the 1830s. Lens continues: 'We mainly look at drought as a potential new driver of wood formation. My team and I have already found a lot of evidence for this.'
Natural link
Lens will continue his research in closer collaboration with scientists at the IBL. For example, he is already collaborating with Salma Balazadeh and professor Remko Offringa, who are investigating genetic properties that make plants resistant to drought and that control the formation of wood.
Offringa, head of the Plant Sciences cluster within the IBL, is pleased with Lens' arrival: 'Frederic's input enabled me to look at my research differently and this has provided ideas for new research. His arrival also means a new impulse to our plant biology education. Moreover, the closer collaboration between the IBL and the other three biological institutes gives a unique colour to Leiden's Plant Sciences.'
Erik Smets, Scientific Director of Naturalis, foresees more collaborations in the future: 'Wood formation has been a natural link between the research of Frederic Lens and Remko Offringa for some time. However, there are still many research areas to be explored where closer cooperation is possible between our institutes. Frederic's appointment will certainly facilitate this.'