A quick call with Joop van der Born about the ISSC's refer-a-friend scheme
The University urgently needs IT talent. The ISSC has therefore started a pilot refer-a-friend scheme: if you recommend someone you know for a hard-to-fill IT job and they are hired, you will receive a 1,500-euro (gross) bonus. 'So hit us with your golden tips,' says ISSC director Joop van der Born.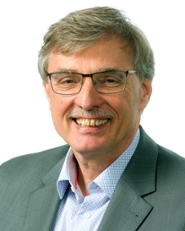 Hi Joop! Why is this scheme so desperately needed?
'In the current job market, it is difficult to find new staff in general, but if you look specifically at the IT market, it is almost impossible. There is a huge labour shortage. Young IT professionals are plucked from college before they have even completed their training.'
How many new staff members are you looking for?
'There have been 15 vacancies at the ISSC for over a year now. We have tried everything but just can't seem to fill them. The work still needs to be done, so we now have to hire expensive external workers. But you obviously prefer to work with a fixed group of staff, also for the sake of continuity.'
You're not giving away 1,500 euros on a whim. What are the main rules?
'First and foremost, the vacancy must be flagged for the refer-a-friend bonus. It's easy to filter on this on the website. And the scheme does not apply to applicants who already work at the University or the LUMC. And finally, you will only receive the bonus if the person you recommend passes their two-month probation period. And do be aware that it is a gross sum, so tax will be withheld from it.'
How can staff convince their family and friends to apply for a job here? What makes working at the ISSC so special?
'If you work for us, you will provide IT support at a fascinating organisation and in all sorts of areas, from research to operations. We also use the latest technology and you can experiment with this to your heart's content. And we work in agile teams: a fun, modern form of teamwork with a lot of personal responsibility. And finally, Leiden University simply has a really good reputation. You never have to explain why you work here.'
And vice versa: what are you looking for in a new staff member?
'The main thing is that you have a high level of knowledge and expertise or are prepared to follow a good training programme. As we use agile methods, you have to be a real team player. You can't shut yourself away for weeks on end until you come up with something great. And a sense of humour is always welcome.'
The pilot has just started but have any tips already come in?
'We're still waiting for the golden tip but we can see that things are starting to move again. If we can hire two or three good people through this scheme, we'll be really pleased. We remain hopeful!'
This pilot is a collaboration between the ISSC and HRM. The pilot will be evaluated in October 2023, after which it will be decided whether the refer-a-friend scheme will be continued and will also apply to other vacancies that are difficult to fill. To find out more about the scheme, log in to the staff members page.
Text: Evelien Flink
A quick call with
There's a lot happening at Leiden University. The websites fill with news on a daily basis. In 'A quick call with', we ask a member of staff to tell us more about a relevant and topical subject.