Library, Research
Maximum number of Open Access articles in Springer journals reached
Leiden University believes it is important that academic publications are accessible to everyone free of charge and without restrictions. That is why we, in collaboration with other Dutch universities, conclude agreements with publishers that support open access publishing.
The Open Access agreement that the Dutch Universities concluded with Springer is based on a maximum of 2,067 articles per year. The possibility to publish Open Access articles in Springer journals was widely used this year. As a result, the agreed maximum has been reached.
This means that articles that are accepted during the remainder of 2023 are no longer eligible for Open Access without costs to Leiden researchers.
As of today, authors who are to publish their manuscript must be careful when the Open Access option is offered in the Springer portal. If authors choose to publish Open Access, they must cover the cost of publication fee themselves. No central funding is available to cover these costs and they are not covered by the library budget for national Open Access agreements.
We advise authors, whose articles are accepted by Springer, to get in touch with the library at openaccess@library.leiden.nl so that we can discuss which alternatives are available to make their articles Open Access.
The current agreement with Springer ends on 31 December 2023. Negotiations about renewal are ongoing, so please pay attention to the Leiden University Libraries' website and/or Centre for Digital Scholarship Twitter account for our updates on this deal.
Please contact us at openaccess@library.leidenuniv.nl, if you have any questions.
What choices do authors have?
When you fill out the 'Publishing and Rights' form in the Springer portal, it will no longer indicate the availability of Open Access without costs. Instead you will see a notification that there is no agreement.
You may still choose to publish Open Access: Springer will show you in the portal the costs of the APC that you will need to pay.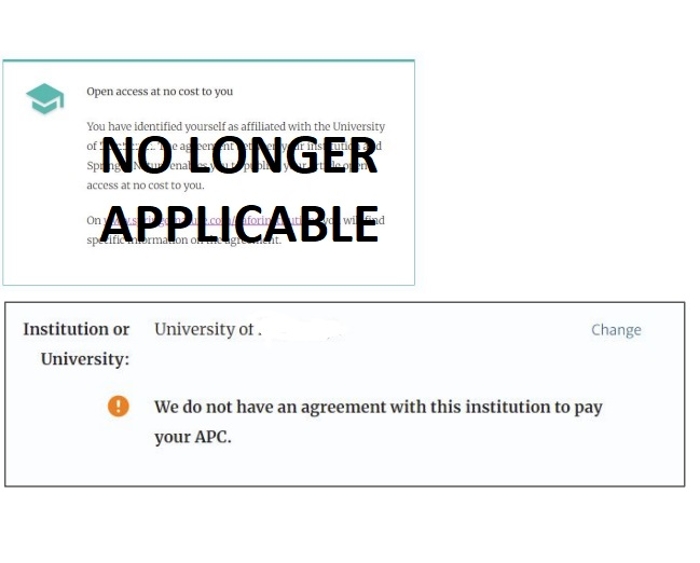 After the cap has been reached in 2023, authors can use Springer's Author Portal to indicate their choice:
- to publish Open Access at their own cost;
- not to publish Open Access.
Notify-me-service
If you expect to publish an article with Springer, keeping track of the annual Open Access cap is important for your publication. You can stay informed about the status of your publishing deal by signing up for a 'notify-me service'. You can also use this service to receive updates about other publishers with a maximum amount of open access publications.