Social safety
Have you experienced or witnessed unacceptable or transgressive behaviour? This page gives information about what you can do yourself and which 'helplines' can assist you in this situation.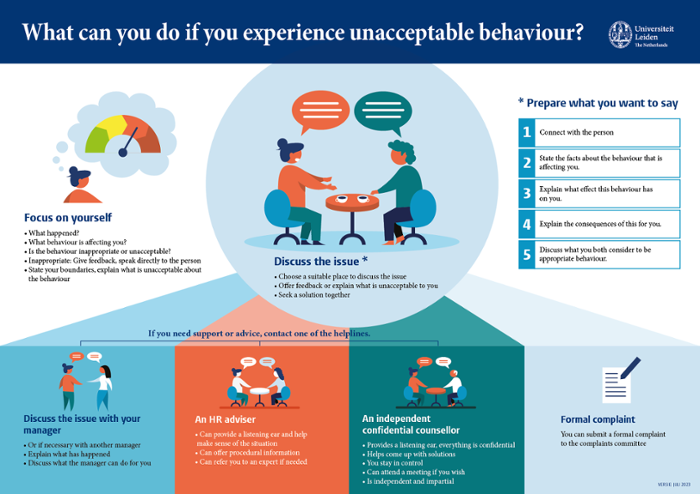 What can you do yourself?
If you experience or witness unacceptable or transgressive behaviour, there are several steps you can take: identify the behaviour, speak about it and, if necessary, ask for support and assistance in the conversation.
If you experience or witness unacceptable or transgressive behaviour, you should be aware that it cannot be tolerated in the workplace. Examples of unacceptable behaviour include:
Unfair treatment;

Bullying, tormenting, gossiping, exclusion and humiliation;

Sexual harassment;

Intimidation;

Discrimination on the basis of gender, ethnicity, sexual orientation, religion, disability, political opinions or nationality;

Aggression and violence.
The university encourages a culture where colleagues and students solve problems together by speaking with the person who displays the behaviour. If possible, engage in conversation with the other person if you feel there is still room to give feedback. Make it clear to them that you experience this behaviour as inappropriate or offensive. By giving feedback, you indicate your boundaries and give the other person a chance to improve their behaviour. If you experience the behaviour as transgressive, you should make it clear to the other person that their behaviour is unacceptable.
These can be very challenging conversations. You can ask for assistance from your manager, an HR adviser or a confidential counsellor. The Let's Connect! toolkit contains articles, videos, training courses and discussion tools to facilitate open communication with one another.
Helplines
'Helplines' are people you want to take into your confidence, either in your personal life or within the university, so that you can tell your story or ask for advice.
If you can't find a solution yourself, it can be helpful to discuss your problems at work with your manager. To prepare for this discussion, the information in 'Open communication in 5 steps' in the Let's Connect! toolkit may be useful. The four competencies of the leadershipmodel within Leiden University can also serve as practical guidelines.
If it is not possible to discuss your problems at work with your manager, you can also contact one of the HR advisers. They offer a listening ear, can give process information, know what additional expertise is available (such as coaches, team coaches, training courses) and can call them in, if necessary.
A wide range of support is offered to help you carefully prepare and conduct a discussion about the unsafe situation you have experienced or witnessed. Just a few of the relevant training courses are listed below. If none of these seems appropriate, the HR adviser can look with you at the complete range of courses and help you to select one that meets your personal needs.
If it is not possible to discuss your problems at work with your manager, you can also contact a confidential counsellor. There are several different confidential counsellors, each with their own area of expertise. Find out more about the confidential counsellors who are available, what they can (and can't) do for you and what you can expect. You can contact a confidential counsellor directly.
Consult the codes of conduct
Leiden University has established codes of conduct containing guidelines for behaviour, integrity in general and academic integrity, which apply for both students and staff. The university also has complaints regulations for unacceptable behaviour and academic integrity.
Submit a formal complaint to a complaints committee
If you are unable to find a solution together after consulting with one or more of the 'helplines', or if you disagree with a decision, you have the option of submitting a formal complaint. The confidential counsellor can assist you with this. You will always have the last word and also the final choice about whether or not to report an issue to a complaints committee. Here again, the complaints committee and its secretary and secretariat are bound by a confidentiality obligation and will treat all information in strict confidence.