Arts and leisure - Theater and presentation | Dance | Music
Musical (Singing/dance/theater) | Intermediate/advanced
Thursday from 20:30-21:45 h
Teacher

Zoë Hemmes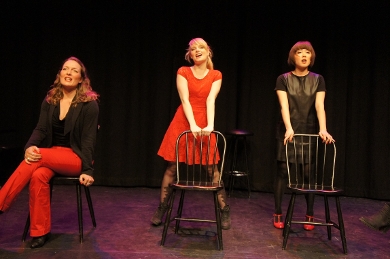 For whom
For those who has some experience with the musical genre. Minimum age: 17.

Content
Do you want to go more in-depth with the musical genre? Then this is a course for you!
In this course we will work with musical repertoire (singing). In addition, we will work with various choreographies, improvisations and scenes in which we delve deeper into the acting and the text treatment.
Would you like to bring these three forms of theater together? Register now for this course!
Teacher
Zoë Hemmes started her musical career with singing and dancing at the Broadway Academy in Amsterdam and Song&Dance in Zwolle. She then followed the preparatory course in classical singing at the Codarts Concervatorium in Rotterdam. She studied classical singing at the ArtEZ Conservatory in Zwolle, where she graduated in July 2015. She now uses her theater knowledge in her private singing, musical and tap lessons at various dance studios and music schools. In addition, Zoë still actively sings as a Diva for Stichting Diva Dichtbij and as a singer with Vocal Fusion.
Is the registration link not working? Please contact the LAK via info@lakcursussen.nl or tel: 071 - 5272317
Anyone who registers for a LAK course, thereby agrees to the LAK terms and conditions

Register on time! A course can only start with enough participants (this will be decided a week before the start).