Lecture | LUCIS What's New?! Series
Anglophone Islam: English-language Islamic curriculum in post-Apartheid South Africa
Date

Thursday 30 November 2023

Time

Explanation

Please register below

Serie

Address

Room

1.48
My project focuses on the translocal linguistic and ideological entanglements that emerge from the spread of a South-African origin English-language Islamic curriculum. The Gujarati Muslim communities I primarily focus on, have had to negotiate the legacy of the British empire that created the networks and spaces through which they move, the demands of their own traditions and the cultural, social, legal and political requirements of their societies as they make space for their religious identities within a minority context. English as a new language in the maktab has become entangled with these negotiations and in thinking of what new community and identities are being formed within an Anglophone Islamic world. Several questions arise out of this including; what are the possibilities and burdens of using and owning a language entangled in a history of cultural hegemony and acts of violence, a language of global capitalism and agent of the 'modern'? What sort of language is it and how does the relationship between language and religion shape identities, beliefs and practices and community more generally?
Starting at the beginning, this talk focuses on the development of this English-language curriculum within the particular context of a post-Apartheid South Africa. Changes to Islamic education during this time were informed by the changes this new political landscape brought about and the curriculum emerged here as a curriculum for a South African Muslim identity. The development of an English-language Islamic curriculum for this new identity, is addressed from the standpoint of a 'pragmatic piety' that allows for embracing more of the possibilities of English including its various linguistic, historical, philosophical, political, and religious resources.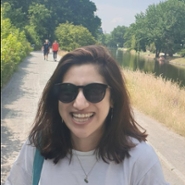 About Yasmin Ismail
Yasmin Ismail is a PhD scholar in Social and Cultural Anthropology at the Berlin Graduate School for Muslim Cultures and Societies. Her research focuses on the use of the English language as a medium of instruction within children's Qur'an schools and the ways language is entangled with religious identities in a minority context. Her research focuses on Muslim children's education within minority settings in South Africa, Zambia and the UK. She is currently also researcher and Project Manager on the project, |0100| One Among Zeroes, Towards an Anthropology of Everyday AI in Islam, at the department of Cultural Anthropology at Leiden University. As part of her research role she explores best practices in utilizing digital technologies and other innovative ways of research dissemination in Anthropology.