Lecture | LUCIS What's New?! Series
Arabic Echoes and Persian Refrains: Devotional Poetry and Intersonicality in Eighteenth- And Nineteenth-Century North India
Date

Thursday 7 December 2023

Time

Explanation

Please register below

Serie

Address

Room

1.48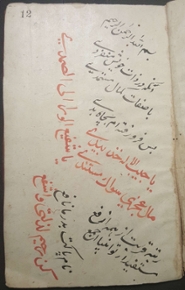 Arabic has been deeply embedded in South Asian religious and cultural life for well over a thousand years, but when spoken, recited, sung, and heard by Muslim communities across the region, it has almost always been accompanied by the sounds of other languages. Recent years have witnessed a burgeoning scholarly interest in the sonic dimensions of contemporary devotional practices such as community preaching and Qawwali performances where Arabic can be heard alongside other languages such as Urdu, Persian, and Bangla. Reconstructing the multilingual sound world of devotional texts in the past is undoubtedly more difficult, if not impossible. That being said, archives of devotional manuscripts and printed books in–and taken from–South Asia are anything but silent.
This lecture will explore devotional poems and prayers that were popular in North India in the eighteenth and nineteenth centuries to show that traces of multilingualism are not only audible in the textual archive but fundamental to the meanings of Arabic texts for devotional communities. I will focus on a small number of poetic munājāt: intimate words of supplication addressed to God, the Prophet, or revered Sufi Shaykhs such as ʿAbd al-Qādir al-Jīlānī. Although, at first glance, these appear to be Arabic poems, manuscripts and printed books containing them feature a wealth of interlinear glosses, versified translations, and bilingual poetic expansions in Persian, Urdu, and other languages. This points to a shared sound world where devotional poetics were inherently multilingual and where Arabic devotional texts were not just understood in terms of their semantic meaning nor passively experienced through the spiritual benefits they offered as recited sound. Instead, I argue that their meanings rested on what I call intersonic knowledge: a shared ability to recognise rhymes and refrains that echoed across Arabic and other languages, and even produce sonic resonances between them.
About Simon Leese
Simon Leese is an assistant professor at the University of Amsterdam. His research focuses on Arabic's role in forging literary and cultural connections between the Middle East and South Asia, multilingual poetic devotion to the Prophet, and literary aesthetics up to the nineteenth century. His current book project, Poetic Terrains: Multilingual Worlds of Arabic Literature in North India, draws on an array of understudied manuscripts and printed books to investigate Arabic's entanglements with South Asian literatures in the early-modern and colonial periods. In doing so, it explores how multilingual poets and audiences in North India imagined the world and their place in it in ways that can challenge how we think about language, geography, and belonging.