Eric De Brabandere: 'Both Ukraine and Russia have an interest in a ceasefire'
Last week Russia and Ukraine met for the first time since the outbreak of the war. The talks took place in Belarus.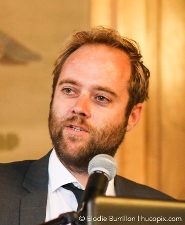 It's a good thing when there are talks between warring parties, says Professor of International Dispute Settlement Eric De Brabandere in an interview with Belgian news programme VRT Nieuws. 'The conflict is not going as predicted, especially on the Russian side. There has to be a ceasefire in the short term, but the question is whether there is a solution for the long term.'
It's often a good sign if negotiations last a long time, says de Brabandere. 'Short negotiations often indicate a failure to find a solution. But negotiating and giving feedback to the presidents is in itself a slow process.'
The best scenario, according to the professor, would be a pause in the fighting. 'There's a war going on but there's also a wider conflict, namely the reason why Russia invaded Ukraine. Both parties now have an interest in a ceasefire. Ukraine is waiting for arms deliveries, and Russia needs time to think about its strategy since the war is not going as planned.'
Watch the whole interview (in Dutch) with VRT Nieuws
Eric De Brabandere's interview with VRT Nieuws took place on Monday 28 February 2022. It is now clear that the talks between Russia and Ukraine in Belarus did not bring about any concrete commitments.