Alumni Event Advanced LLM in European and International Human Rights Law
On March 16 students and alumni of the Advanced LLM in European and International Human Rights Law were brought together in an online Zoom event organized by our programme coordinator, Mahshid Alizadeh, and head of the LLM, Rick Lawson.
Alumni from different years were invited, which offered current students a broader spectrum of occupational opportunities. Former students who participated were: Alice Walker, Atakan Gungordu, Cristina Azzarello, Emiliya Bratanova van Harten, Francesco Schmidt, Gargi Sharma, Nadeshda Jayakody, Pauline Bove, Simona Demkova, Sylvie McCallum Rougerie and Wiebke Judith.
After Prof. Lawson's welcoming words, the alumni and students were divided into smaller sub-groups and sent to several breakout rooms in which at least one alumnus was present. In these smaller settings, the students could listen to the alumni on their time before, during and after the LLM as well as ask questions on their personal experiences regarding internships, current occupations, further studies such as doctoral studies and other advice to grow one's network.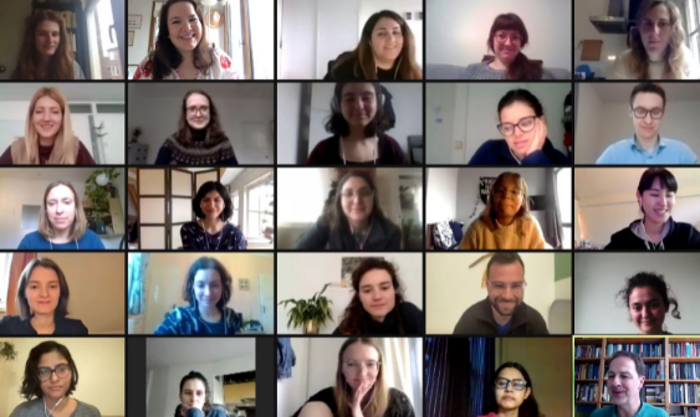 The conversations with alumni were very helpful for the current students in two ways.
On the one hand, the alumni showed how broad the scope of activity of a human rights lawyer can be, which inspired current students to consider unusual jobs that at first glance do not seem to deal with human rights. For example, Paulina Bove is currently working for a not-for-profit organisation that stands for equality and solidarity in professional football, which sometimes negotiates with FIFA. She explained how sports law and human rights law correlate with one another. Moreover, Alice Walker working for the Financial Ombudsman Service as an investigator emphasized that she unexpectedly deals with a lot of consumers' human rights, which are jeopardized by banks or other financial businesses.
On the other hand, all alumni affirmed how competitive the human rights job market can be and how helpful a diverse network of professionals is in finding an internship or occupation. The alumni offered tips and anecdotes to prove that it is possible to draw an employer's attention and stand out from a crowd of applicants. Their advice was considered very helpful and much appreciated by the current class.
The feedback of all participants was solely positive. The event was a success through and through.