Alumnus Rennie Roos: 'My work has more impact in Indonesia'
While studying Indonesian languages and cultures, Rennie Roos started a company. Today he has been working in Indonesia for more than eight years. Where does his love for this country come from? And how does he look back on his studies? 'I actually wanted to become a pilot.'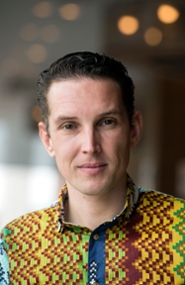 You became an entrepreneur while you were still a student. What made you make this decision?
'During my time abroad I found out that a lot of international students live in a bubble. When Indonesians come to Leiden to study here, they often live together in one house and hardly ever meet any Dutch people. The same thing happens the other way around. I wanted to connect those worlds more. That is why I founded Indonesia Nederland Youth Society during my master's thesis, an organisation that aims to improve the relationship between Indonesia and the Netherlands by creating opportunities for young people.'
How did you combine being an entrepreneur with your studies?
'I was planning on obtaining two master's degrees: Asian Studies and International Relations. Unfortunately I never finished the latter, because I was already busy with setting up my own company. This became Asia Consulting: a small company with which I advise other companies on how to strengthen their ties with Indonesia. Eventually, I specialised in nonprofit organisations, because I want to contribute to society. I have managed and improved Indonesian-Dutch exchange programmes of three universities, organised a week-long conference in the Babylon Hotel in The Hague for twenty Indonesian and Dutch leaders, but I also got to prepare Queen Máxima for her state visit last year, and in 2016 I received Indonesian President Joko Widodo during his visit to the Netherlands.'
Where does this passion for Indonesia come from?
'I wanted to be a pilot, but was rejected. KLM (Royal Dutch Airlines, ed.) told me that I could try again after obtaining a bachelor's degree. I chose Indonesian languages and cultures, because I wanted to learn a new language and because my grandmother was born in the Dutch East Indies. It was actually during my studies when I discovered how much I like the country. This is mainly because over there, I can really see the impact of my work and the development of the country. When you build a new railway line in the Netherlands, it makes a difference of maybe five minutes in travelling time. When you build a new metro line in Jakarta, it immediately makes a difference of a couple of hours. I don't aspire to be a pilot any more. I still fly a lot, but in the back.'
What did you take from your study programme into your work?
'I got to know Indonesia well through my studies, in part because I visited every year during my bachelor's degree. That was a stroke of luck. A year after I started at the bachelor Indonesian languages and cultures, we were told the programme would be merged into the new bachelor South and Southeast Asian Studies. After some protest I was allowed to finish the original programme. Occasionally this led to problems, for example because I had to retake a course that was no longer being taught. However partly because of this different programme I was able to go to Indonesia for an extra semester. It was tough that suddenly my education was completely in Indonesian, but for my entrepreneurship those periods were very useful. I would love it if in the future the university offered more room for learning in practice, for example through internships or by stimulating entrepreneurship. In my role as a board member of the university's Young Alumni Network, I hope to be able to contribute to this.'
What are your plans for the future?
'Due to Covid, this was the first year since I was eighteen that I've been in the Netherlands for a whole year. That is why I switched to online programmes with my company. That worked out, but it also reinforced questions I had had for some time: do I want to do something else? When I talk about my career it might sound like all of it comes naturally but being an entrepreneur can be quite lonely and you only have so much influence on your own. A few years ago I suffered from a burnout because I was working far too much. Even though I recovered, I since regularly doubted whether I didn't want to work for another company. Eventually I came across MDF Training & Consultancy, a consulting company that sets up entrepreneurship programmes wants to expand into Asia. Soon, I will be working for them in Southeast Asia, based in Bali.'
How exciting! What do you hope this new step will bring you?
'I hope to use MDF's international infrastructure to create even more opportunities for others than I already did with my own company. For this reason, my new position is also linked to the Young Expert Programme (YEP) of the Ministry of Foreign Affairs, where I want to contribute to the Sustainable Development Goals (SDGs) together with other international experts. I am also going to learn what it's like to work for a boss. That will be quite a challenge, because I've never done that before and because I am stubborn. In fact, the word "boss" already troubles me. So we will have to see whether this fits me. Luckily I have already become acquainted with the branch in Ghana in the past few weeks. That made me very excited, so I am mainly looking forward to this new challenge.'