LEF grant for Semiha Aydin to pilot social anxiety treatment
Semiha Aydin is one of the three first-generation researchers who received a grant from the Leiden Empowerment Fund to stimulate their scientific career.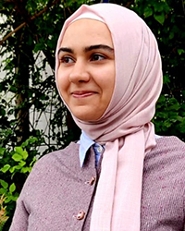 Schema therapy
Semiha sees the grant as an opportunity to combine her passions for science and clinical practice. She will conduct a pilot study on the feasability of schema therapy for young adults with social anxiety disorder. Schema therapy is a promising treatment and it may be particularly relevant for first-generation students, who may experience a negative impact of social anxiety on their academic career.
Professor Carel Stolker: 'As a lecturer, dean and rector, I have always admired pupils and students who had to do it on their own, who had to find their own way to university. It is these students, often first-generation students, that I want to help with the new Leiden Empowerment Fund.'
LEF grants for first-generation researchers
Would you like to help create equal opportunities for all? You can still donate to SteunLeiden.nl. On behalf of all Leiden researchers and students, we would like to thank you for your support.