Coming this fall: Al-Babtain visiting professor Hugh Kennedy
This fall, LUCIS will have the pleasure of welcoming Professor Hugh Kennedy from SOAS University of London to Leiden. He is the fourth Abdulaziz Saud Al-Babtain Cultural Foundation Visiting Professor in Arabic Culture at Leiden University.
The Al-Babtain Leiden University Centre for Arabic Culture is delighted to welcome the Professor Hugh Kennedy, internationally renowned for his work on the history and archaeology of the early Islamic world. We are very excited to offer students this unique opportunity to meet and be taught by this eminent scholar and prolific author, whose work includes The Great Arab Conquests and Caliphate: The History of an Idea.
Masterclasses
Professor Kennedy will be teaching six classes in Dr. Jelle Bruning's course Culture and Society in the Medieval Muslim World in the fall semester of the academic year 2021/2022. These classes explore the idea of a "Greater Mesopotamia" and its fundamental importance in understanding the economy and geopolitics of the early Islamic world, from 650 to 1050 CE.
Registration
These masterclasses will take place on 21, 22, and 29 October, and on 3 December and twice in the week of 6 December (exact times and places tba). Middle Eastern Studies students are encouraged to register for Dr. Jelle Bruning's course (knowledge of Arabic is not required). Students from other institutions, PhDs, and postdocs are also welcome and are invited to send an email to Dr. Jelle Bruning.
What's New?! Lecture
Professor Kennedy will give the a lecture in our What's New?! Lecture series. In his lecture, The Globalization of Baghdad, he will discuss the impact this vast metropolis had on the economy of the Islamic world and wider Eurasia, from China to the Mediterranean, in the ninth and tenth centuries. The lecture is free to join for everyone and is followed by drinks.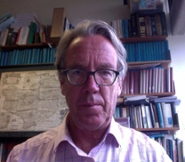 About Hugh Kennedy
Hugh Kennedy has been Professor of Arabic at SOAS University of London since 2017. After completing a PhD at Cambridge, he taught as lecturer and then professor of Middle Eastern History in the University of St Andrews from 1972 to 2017. He is a Fellow of the British Academy and also of the Royal Society of Edinburgh. He is the author of numerous books and articles on the history and archaeology of the early Islamic world. His books have been translated into ten languages. He is presently working on a new translation of al-Balādhurī's Futūḥ al-Buldān and an economic history of the Muslim Middle East in the early Middle Ages.