Living Lab moves: first new ditches dug
Leiden University's Living Lab is moving to the middle of the Leiden Bio Science Park. In the lab's new home between the University of Applied Sciences, Mentor and Naturalis Biodiversity Center, the first ditches have now been dug. This new location is more accessible to both researchers and the public. The future of the research and teaching at the University's unique 'ditches project' has been secured for a further ten years.
The Living Lab is the initiative of the Leiden University Institute of Environmental Sciences (CML). It is a test location with natural conditions. Here researchers and students can simulate and test the effects of humans on the environment in the most realistic way possible. Since 2016 the Living Lab has been situated at the Oegstgeest end of the Leiden Bio Science Park (LBSP).
Simulate natural conditions
Professor of Ecotoxicology Martina Vijver and her colleague Maarten Schrama are the initiators of the project. 'Nowhere else can we simulate conditions in the real world of water and land as well as we can in the Living Lab,' says Vijver. 'The Living Lab therefore gives us the chance to research future scenarios for the Dutch landscape relating to climate change and land use. It is one of the few places in Europe where this form of research is used.'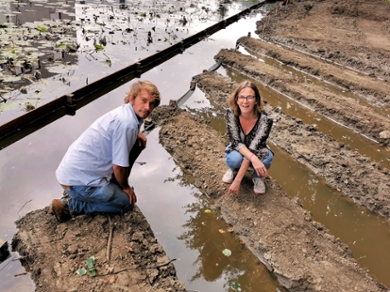 From water cycles to mosquito plagues
Vijver explains that this research is into all sorts of questions about the effects of future scenarios. 'What will happen with our water cycle? What are the effects of unintended emissions on chemical substances or of artificial light on aquatic life? How can we develop nanomaterials in such a way to guarantee product safety in the development process? But also: how can we prevent mosquito plagues in the future?' Students and researchers from the University and University of Applied Sciences also develop innovative research methods at the Living Lab.
More accessible, also for the public
The new location and layout of the Living Lab is very suited for long-term research and will ensure crayfish are kept out. There will also be an environmentally friendly riverbank. The location provides room for permanent research equipment and makes the project more accessible for researchers and the public. A café (VRIJ) with a meeting room will be realised next autumn, where visitors will be able to see researchers working in the wild.
Research and teaching
In the coming years researchers from the Living Lab will be actively seeking collaboration with public and private parties with research questions. The Living Lab also has an important educational role. Each year dozens of students from senior secondary vocational education, universities of applied sciences and the University are trained in research methods and concepts for a sustainable environment. And over 800 schoolchildren have already visited the former location. They met researchers in their natural habitat and learned all about the research at the Living Lab. Schoolchildren will also be welcome at the new site.