Opening of the Academic Year: 'Take care of each other'
After a turbulent Covid year, the well-being of our students and staff has the highest priority. How can we prevent physical and mental health problems? This was the key question at the Opening of the Academic Year in Pieterskerk in Leiden on 6 September.
Once again, a modest number of guests were present because of the Covid restrictions, but dozens of students, researchers and other staff members joined the digital audience in the video wall. And even more important, in-person lectures can begin once again this year, for the present with a maximum of 75 students per lecture hall.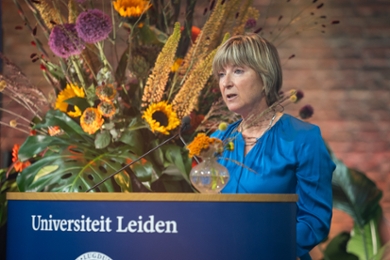 Well-being important theme at the University
'The theme of well-being is something that we – the Executive Board and deans – deal with almost daily,' said Annetje Ottow, President of the Executive Board, in her speech. In their own way, our students and staff have had a difficult time during the lockdown. The students suffered from the lack of contact, and the staff, particularly those involved in teaching, saw their workload increase to an unprecedented level. 'Your resilience, perseverance and sense of responsibility is enormous. You deserve a big thank you!' Ottow called on the government to create 'more breathing space' and thus more financial leeway for university teaching. 'But first and foremost we have to take care of everyone's well-being and look after one another. That will be an important theme in our new strategic plan too.'
The threat of climate change
Ottow had another urgent message. 'The Covid pandemic is not the only disaster to hit humanity,' she said. According to the recent Intergovernmental Panel on Climate Change (IPCC) report, we are on the brink of irreversible climate change caused by human behaviour, unless we do all we can to turn the tide. Ottow: 'With our broad knowledge from different disciplines, we in Leiden can study societal challenges and propose solutions. This multidisciplinary approach and the links between our disciplines is the strength of Leiden University, and this is something we should continue to cherish.'
Since the beginning of 2020 Leiden University has been a member of EUniWell, an international partnership of seven universities from seven European countries that share best practices in the area of well-being. 'This means well-being in all its dimensions,' Rector Magnificus Hester Bijl emphasised before the speeches of professors Jennifer Cumming and Andrea Evers. 'From individual quality of life to social cohesion. And from the health of the local environment to that of the whole planet.'
Well-being in an urbanising world
The keynote speech was given by Jennifer Cumming, Professor of Sport and Exercise Psychology and Director of the Research Centre for Urban Wellbeing at the University of Birmingham. 'More than half of the world's population is now living in urban areas,' said Cumming via a live connection from Birmingham. 'For the people currently living in cities, this urban growth brings opportunities but also many challenges to well-being.' Cumming and her colleagues conduct research into well-being in the urban environment in the broadest sense of the word. 'While devising our research priorities, we spent time building relationships with national governments organisations, community engagement initiatives, well-being think tanks, public health leaders, and local politicians.'
Cumming emphasized the importance of the widest possible definition of well-being. 'Community well-being is also linked to access to housing, transport, arts and culture, nature, infrastructure and so on.' This is also apparent if you look at life expectancy: people in certain areas of Birmingham live ten years longer than in other areas of Birmingham. She also called for more consideration of subjective factors. 'If you also look at emotional experiences of happiness, contentment, anxiety and loneliness, you find out if people feel as though they what they do counts. That feeling plays an essential role in our well-being – or lack of it.'
The audience in Pieterskerk. Seventy-five guests could attend the opening.

The Sempre Crescendo madrigal choir provided a musical intermezzo.

Ayo Adedokun, winner of the Teaching Prize.
Response by Professor Andrea Evers
Leiden Professor of Health Psychology Andrea Evers responded to Jennifer Cumming's speech by explaining what she knows about well-being in our own region. 'Here in the Netherlands we also see big differences in life expectancy in different areas.' Evers also recognised the important of an interdisciplinary approach. 'I'm really pleased to launch the Healthy Society Programme today, a new initiative where we will collaborate even more closely with our LDE and Medical Delta partners of Delft and Rotterdam.'
Evers went on to list the many well-being projects at Leiden University. For our own students and staff, the Healthy University Leiden initiative offers activities to improve the physical and mental health of our students and staff. And for the citizens of Leiden, there is the BOX project where diabetes or heart disease patients are given equipment to monitor their own health at home. These are just two of the University's well-being projects. 'I am pleased that students, staff members and partners of our university can see the necessity of working on a healthy, happy society.'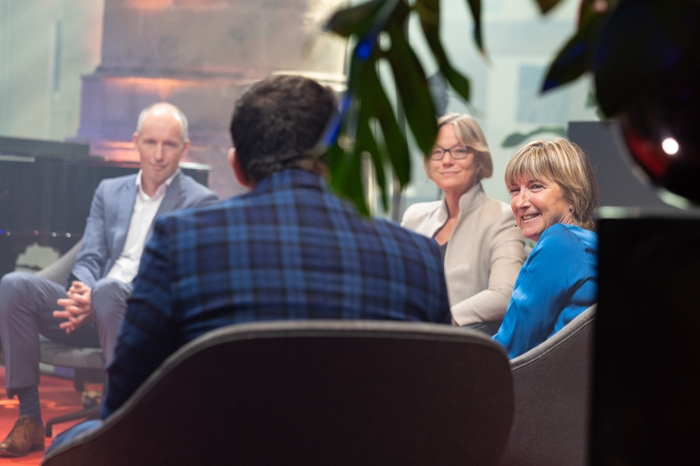 Round table with the Executive Board
In a round table led by Middle East Studies student Ebrar Kaya, the members of the Executive Board looked in more depth at the meaning of the topic of well-being. Rector Hester Bijl spoke about how Leiden University is helping to improve well-being, both within and outside the University. One good example, she said, is the three researchers who recently received a Spinoza or Stevin Prize: all three are fighting in their own way for a better world.
'The feeling that you count plays an essential role in our well-being – or lack of it'
But well-being is also about our own students and staff, and they haven't had it easy in the past one-and-a-half years. Annetje Ottow (President of the Executive Board) began her job during the pandemic, which was, 'a bit of a challenge'. 'And many colleagues will undoubtedly have felt the same too.' Martijn Ridderbos (Vice-Chairman of the Board) added that it is up to us, the University community, to make sure that the University reopens safely. 'My hope is that we do this together as a university community, and that we continue to think of everyone's health.'
This was followed by an impressive spoken-word performance by Sophia Blyden, who studied Dutch Literature in Leiden. In her moving poem, she spoke about her time as a student, how she felt pressure from her parents to achieve and her discomfort at being one of the few students of colour. She addressed all students directly: 'so take care of yourself/take care of each other/because while we search the lecture halls/for the face of our parents/fighters like us/are laying down our shields/the final battle: that degree/no matter what/you're nearly there/show them what you can do.'
LUS Teaching Prize
In the past one-and-a-half year, the teaching was mainly online, out of sheer necessity. That asked a lot of our lecturers because they had to convert all their lectures. Which lecturers did this in the most innovative, appealing way? As it does every year, the Leiden University Student Platform (LUS) asked this question to the students at all the faculties. And three nominees remained: Els de Busser (Faculty of Governance and Global Affairs), Ayo Adedokun (Leiden University College The Hague) and David Fontijn (Faculty of Archaeology). The prize: 25,000 euros to spend on teaching and a seat in the Leiden Teachers' Academy.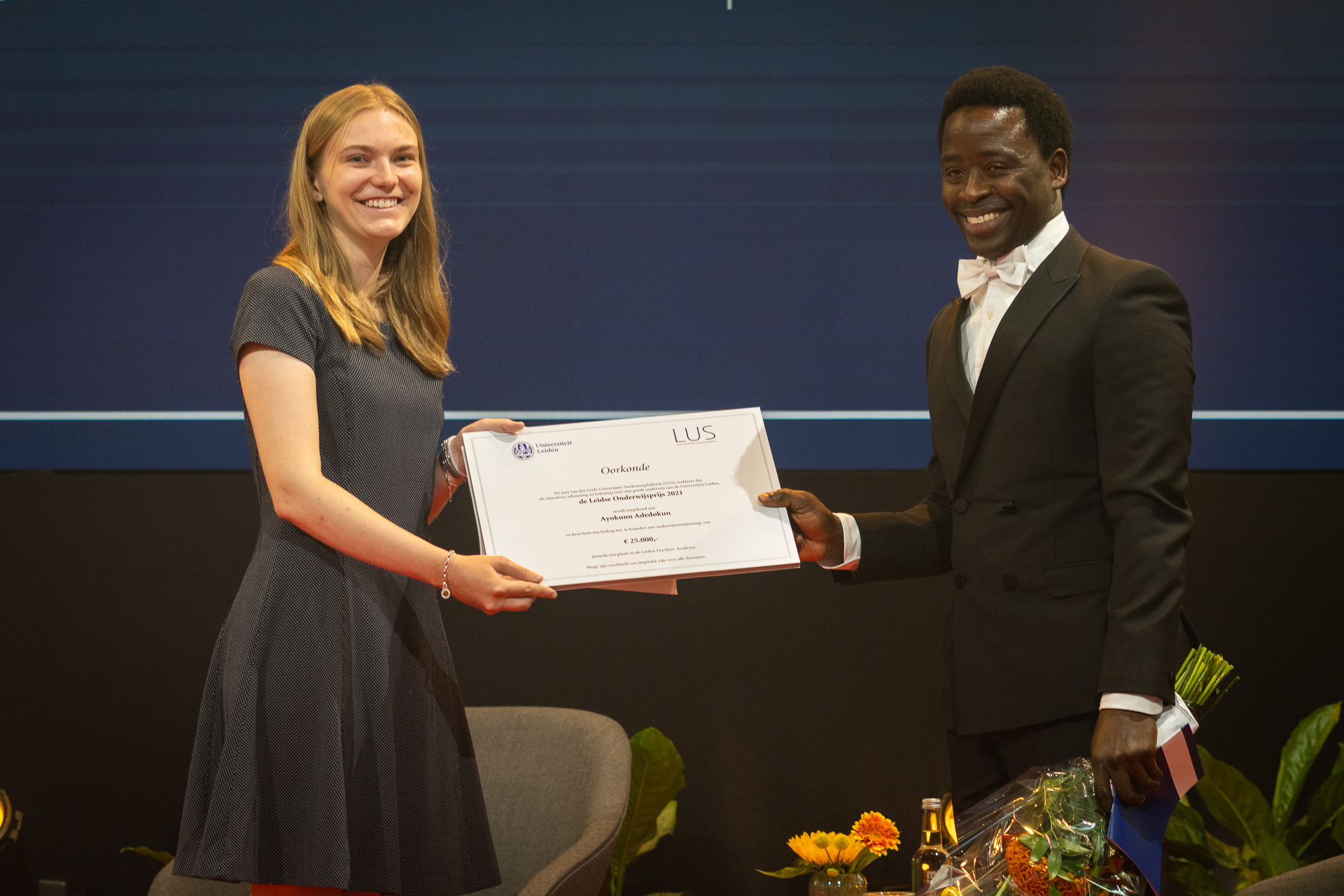 And the winner is...
LUS Chair Catrin Böcher explained why the three nominees were in with a chance of winning the coveted prize. And, so as not keep the nominees waiting anymore, she announced: 'For his enthusiasm and ability to create an interactive and welcoming environment, the winner of the LUS Teaching Prize 2020-2021 is: Ayo Adedokun!'
Ayo Adedokun was nominated by his students for his enthusiasm and engagement. By going for walks with his students, he created plenty of opportunity for interaction and contact. It also helped him find out what problems they were facing. On receiving the prize a visibly moved Adedokun said, 'I want to inspire my students and give them strength.' He then turned to his colleagues. 'I dedicate this prize to all the lecturers who worked so hard in this pandemic.'