ISGA launches education partnership with Germany's University of the Armed Forces, Hamburg
In December 2020, the Faculty of Governance and Global Affairs and Helmut Schmidt University of the German Armed Forces in Hamburg signed a cooperation agreement to cooperate in the education realm on a variety of topics related to the Civilian and Military dimensions of European and Global Security.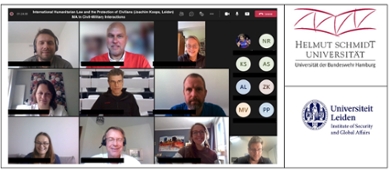 In this context, ISGA contributes teaching expertise to the MA in Civil-Military Interaction (CMI) run by the Helmut Schmidt University, in cooperation with the NATO Civil-Military Cooperation Center of Excellence in The Hague. The MA brings together, inter alia, senior leaders from the Dutch and German military as well as experts from the civilian and humanitarian domain to explore core issues related to civil-military cooperation across a wide range of themes.
In early October, Professor Joachim Koops (Scientific Director of ISGA and Professor of Security Studies) designed and delivered the first ISGA course for the MA, focusing on the evolution, practice and challenges of international humanitarian law and the Protection of Civilians. Participants from Germany, the Netherlands, Australia, Turkey and the UK joined the weekend-long block seminar to study together the historical, legal and political foundations of international humanitarian law and to examine the operational implications of the protection of civilians in armed conflict. The second block seminar will take place 14-16 January 2022 and will explore in-depth NATO, EU and UN approaches to the protection of civilians in conflict zones.
Further cooperation projects are envisaged between ISGA and NATO's Civil Military Cooperation Center of Excellence in the coming months.