What does research support involve?
The first hybrid Leiden Research Support Conference – organised for and by research support staff – took place on 27, 28 and 29 September and focused entirely on organising effective research support.
The funding landscape has changed dramatically in recent years, making it increasingly difficult for researchers to obtain funding for their projects. The procedures relating to grant applications for scientific research are expensive and time-consuming, and funding bodies are imposing more stringent requirements for these applications. There is also tremendous competition for grants. This means that expertise and assistance in such areas as grant support, legal support, data management, privacy and ethics, financial management and project management are extremely important. The conference was an opportunity for research support staff and other interested colleagues to participate in 18 different interactive themed sessions and to share their best practices, meet one another and learn more about each other's work.
'I'm lost without a good support team'
The importance of discussing research support together was emphasised in the opening session. Rector Magnificus Hester Bijl: 'Grant providers are focusing more and more on important aspects underlying the research, such as privacy protection, data management and ethics. If we're going to stand a chance of acquiring research grants in the future, we need to think carefully about these themes.' Next, clinical psychologist and associate professor Eiko Fried said, with great honesty, 'I'm lost without a good support team. It's impossible for an academic to be skilled in all the administrative steps involved, from grant application through to publication, so you really need to have help here.' The question facing us is therefore: how do you structure this support? Or in the words of the Dean of the Faculty of Humanities, Mark Rutgers: 'The demand for support is virtually inexhaustible, so we need to make good choices about what we are and aren't going to do, in order to reduce the pressure on support staff.'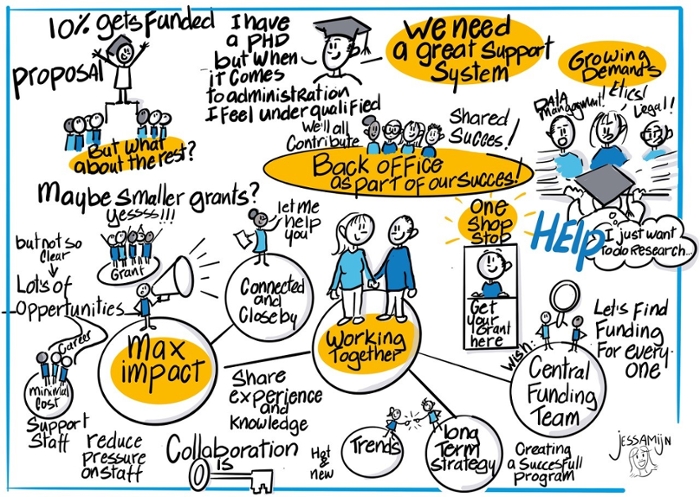 Just a few of the interesting themed sessions are described below.
Session: Building communities: creating a toolkit together
We define "community" as a group of people who have similar characteristics, objectives, challenges and interests. The participants in this hybrid session looked at the Leiden communities to which we belong or which we support, and they worked together to develop a short step-by-step plan for establishing a successful community. 1. Specify your idea and your target group. 2. Describe what makes your community unique. 3. Start with passion and activate participants to create content. 4. Build your community and decide if it's a success. 5. Evaluate and learn. On the basis of this session, a Building Communities work group was created, so if you'd like to know more about starting a community, or if you'd like to join the discussion or share your ideas, please contact Jasmijn Mioch.
Session: Find your way in the world of research support
A one-stop shop where research support staff and researchers can find all the information they need before, during and after the research: this was the purpose of setting up the Research Support Portal (RSP), which was launched at the beginning of 2021. The RSP provides information not only about support themes, such as grants, data management, ethics and scientific communication, but also about where you can find this support. During the session, research support staff showed how to use the portal and the participants also brainstormed about its further development.
Session: How Luris supports knowledge translation
Valorisation, impact of research and public-private partnerships between researchers and society are becoming more important all the time for the University and the LUMC. How can you increase the impact of your scientific research? And how can the University's Knowledge Exchange Office (Luris) help with this? In this session, research support staff studied real-life cases and discovered a variety of ways to ensure that research from different disciplines within the University is transferred to society. Workshop leader Jessica Meijer: 'By matching society's needs with the University's capabilities, Luris increases the impact of new technologies and knowledge.' To find out more about achieving greater impact, please contact Jessica Meijer.
Working together on building a strong Research Support Network
The conference is part of the Leiden Research Support (LRS) programme, where we work with colleagues on building a strong Research Support Network. The goal of LRS is to provide optimum support to individual researchers and research groups in applying for externally funded research projects, and in the management and accountability of these projects. We therefore aim to facilitate collaboration between research support staff with different areas of expertise, both within and outside their own faculty.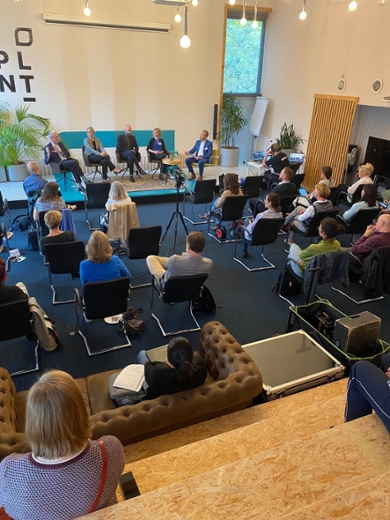 Session: Everything you always wanted to know about data management but were afraid to ask
Participants who dared to play a data horror escape game in Professor Hutseephluts' office went in search of an answer to the question: what is data management about? Briefly summarised, research data management (RDM) is about the creation, storage, maintenance, access provision, archiving and long-term retention of research data. An important aspect of RDM is writing a data management plan. Workshop leader Fieke Schoots: 'We often see people who are finding it difficult to write a good data management plan, explaining precisely how they intend to manage their data. The aim of this session was to show participants that it doesn't need to be stressful, and having a good plan actually helps you to organise your project better and keep it under control.' If you'd like to learn more about this, you can take the course How to write a data management plan on 18 November.
Session: Including digital privacy and security in your research
The research world has gained a lot from working digitally. For instance, it's easier to send out questionnaires, collaborate online with colleagues and bring your research to the attention of relevant people and organisations. At the same time, however, working digitally involves new risks. In this session, Nina Elzinga-Langeveld (Security Officer in the Faculty of Humanities) and Max van Arnhem (Privacy Officer in the Faculty of Humanities) explained the risks to the participants and gave them some guidelines for conducting research securely. While working on a research project, it's important to protect your research data properly. You can use SURFdrive, OneDrive and Teams, but should avoid tools like Dropbox and Google Drive. You must only use USB sticks and external hard drives approved by ISSC and always make sure your password is strong. When collecting data you can easily encounter personal data, so think carefully about people's rights in relation to this. If your research will involve collecting personal data, you must always inform your Faculty's privacy officer, who will be able to advise and assist you. If you have questions about the cyber security of your research, please contact ISSC and ask them to help with the secure design, storage, sharing and processing of data.
Session: Research support as a profession
In the workshop 'Research support as a profession', organised by Felix Wittleben, deeper insights were given on the growing importance of research support and RMA. Together with panel members Astrid de Vries, Jip Chong and Nick Ollivere, RMA as a career path was discussed, highlighting the remarkable point that not everyone is recognising themselves as an RMA. This points to a discrepancy between how RMA is talked about, and how people feel about it and understand the term RMA, emphasising the importance to increasingly integrate RMA in the research culture of the university. As also followed from the panel discussion, communication is a key aspect in being an RMA in order to reach the goal of providing a successful research environment within the university. Together, we can learn from each other's capabilities and specialisations. Networks such as the ARMA-NL, EARMA and INORMS help to find these connections and to advance across and within specialisations, and, above all, across universities.
More events on the way
The conference programme was assembled during several Leiden Research Support network cafés, where colleagues brainstormed about topics they wanted to see on the agenda. More online and onsite events will follow soon. If you have any ideas or would like to join the discussion, please let us know – and play a part in building a strong Research Support Network.