Why looted art lawsuits often fail (and what can be done about this)
There are as good as no clear rules for the return of stolen art. This means that rather than in court, many cases are decided in the political arena instead. In her PhD research Evelien Campfens suggests how this could change. PhD defence on 11 November.
This August, the Municipality of Amsterdam reached a decision: the Kandinsky painting Bild mit Häusern (1909) had to be returned to the heirs of the former Jewish owner. The Municipality concluded that Stedelijk Museum had purchased the valuable painting for a pittance in 1940, soon after the Jewish owner had fled the Netherlands from the Nazis. The heirs contended that the museum had gained the painting 'by unethical means', and the Municipality agreed.
The Municipality of Amsterdam thus ended a year-long fight. The case had already been considered in 2018 by what is known as the Restitutions Committee, with the Committee concluding that it was not looted art. The painting's sale, it said, was related to the Jewish owner's already 'straitened financial circumstances' before the war. In other words: the Committee did not believe the purchase had contravened ethical norms.
'This case shows how political the return of looted art often is'
'This case shows how political the return of looted art often is,' says PhD candidate Evelien Campfens, who herself worked for a long time for the Restitutions Committee. 'Inadequate legislation often makes it very difficult for descendants to prove their case. At the same time nearly everyone realises that from a moral perspective it's not right that claims by the owners of looted art simply prove to be beyond the statute of limitations; everyone realises something should be done about this. In a non-legal model like this, the question is always: who determines what is just? That results in all sorts of ad-hoc political decisions.' This is often the case with the return of colonial art too.
Legal framework
In her dissertation Campfens suggests a legal framework, which would allow the courts to settle differences about looted art. She makes a clear distinction between property and heritage. Whereas the current model is based on the question of whether someone is the rightful owner of the work of art, something which different countries see differently, Campfens believes we should also consider the intangible heritage value of an object. So alongside a title to ownership, we can also talk of a title to heritage. Many cultural goods have not only an economic value for the owner but also a religious or cultural value for certain communities or families.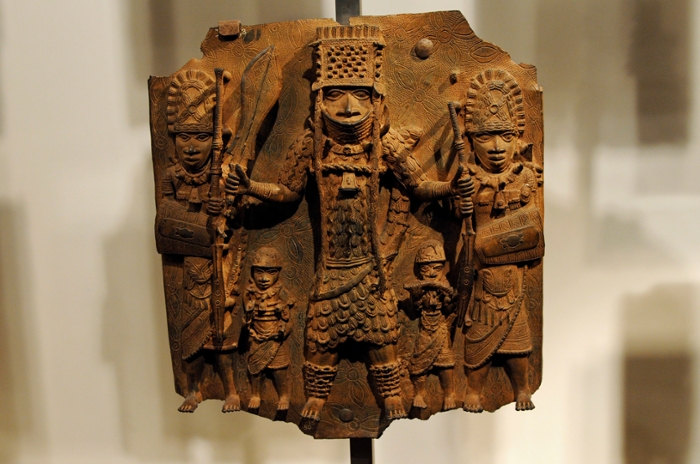 Campfens then shows that there are many norms in international treaties that enshrine this heritage value in law. The human right to culture, for example, and the rights of indigenous communities to their lost cultural objects. Campfens: 'There already are rules on heritage protection, but they also need to be applied to matters of disputed art ownership. It's up to researchers to further develop these norms and up to judges to include these rules in their verdict, and thus to build up jurisprudence.'
'The main point is that we recognise that such claims are a matter of law'
Correcting injustice
Does this mean, for instance, that all art from the colonial period should return to its country of origin? No, says Campfens. 'Cultural diversity is also a common good, so it's good if people can admire art from all over the world. But that has to be shared more fairly and shouldn't be used as an argument for Western countries to brush off claims – as has long been the case. Research into how an artefact was traded – provenance research – is becoming increasingly important in the art world as it is. The question of which story is told about an object in a museum can also be part of the solution. It's also about acknowledging the injustice. Then it be fine for an object to stay in a museum.'
She adds: 'As far as I'm concerned, the main thing is that we recognise that this kind of claim is a matter of law, and doesn't just depend on whether its new owner has morals. And don't be afraid of correcting past injustices. Restitution presents options in that respect.'
If you no longer see these kinds of issue as a question of ownership – it is exclusively yours or mine – but also think in terms of curation, access and control, plenty of solutions are possible. Shared curation, for instance. Then an object can be under curated by a museum, but the community of origin will have actual control of the work and how it is displayed. Campfens: 'These are all ways to end the stalemate that is seen by many as a continuing illegal situation.'
Text: Merijn van Nuland
Image copyright:
Main picture: RV1864 via Flickr
Picture in text: Son of Groucho via Flickr.