Cleveringa honoured with statue in birthplace of Appingedam
Almost 81 years after his famous protest speech against the German occupation, Leiden professor Rudolph Pabus Cleveringa will be remembered in his Groningen birthplace of Appingedam. A statue of him will be unveiled there on 12 November amid various other activities.
The statue of Cleveringa, by Elise d'Hont, was placed in Appingedam last year already. The Cleveringa Day had to be cancelled at the time because of the pandemic. Former Rector Magnificus of Leiden University, Carel Stolker, will now officially unveil the statue. Later in the day there will be a lecture about Cleveringa in the Nicolaïkerk church by his biographer Professor C.J.M. Schuyt. There will also be an exhibition about Cleveringa in the church, with exhibits from Museum Stad Appingedam.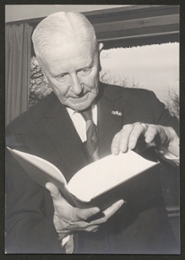 Rudolph Pabus Cleveringa (1894-1980) was born in Appingedam and studied law at Leiden University, where he was appointed professor in 1927. During the German occupation he condemned the dismissal of his Jewish colleague Eduard Meijers in a public lecture on 26 November 1940. Cleveringa was arrested after the lecture and Meijers was deported first to Westerbork and then to Theresienstadt, where he survived the war.
After the war Cleveringa was one of the few to call for the return of looted Jewish possessions. He received many awards, including the American Medal of Freedom.
De Cleveringa Day in Appingedam (in Dutch) is organised by Amasius Historical Society and the City of Appingedam Activities Foundation. The two are supported by the Eemsdelta municipal administration. A number of sponsors have made the event possible.
Cleveringa Lecture
The Cleveringa Lecture will be given in Leiden on 26 November, two weeks after Cleveringa Day in Appingedam. This year will be the first time that it is given by two Cleveringa professors. wrote a critical book about the Holocaust in Poland and were accused of defamation. Register here for the double lecture.
There are also Cleveringa Meetings in various places in November.
Main photo of Appingedam: Bram Noordhuis