A real professor in the classroom
It's starting to become a real Dies Natalis tradition: on 8 February professors from Leiden University teach a class at primary schools in the region. This introduces children to academia and teaches them more about conducting research. 'Had you expected me to be a woman?'
This school year 47 classes are ready to meet 'their professor'. Their schools have prepared them in six short lessons based on the professor's research. This teaches them more about their professor and Leiden University.
What is legislation?
Annetje Ottow, Professor of Law and President of the Executive Board, is taking part this year. She's giving a lesson at de Meerpaal primary school in Leiden and is standing in front of a very curious year 7. She tells them how her research is all about 'legislation'. 'What's that?' asks one pupil. Ottow explains that she researches how you legislate and draw up rules. 'In the Netherlands we have rules for almost everything,' she says. 'You have to stop at a red traffic light, for instance, or you have to put up your hand in class if you want to speak.'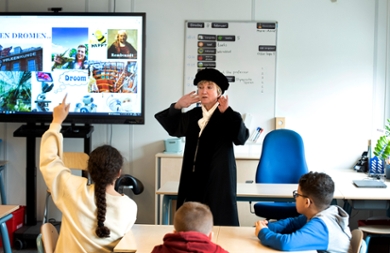 Dies Natalis
Ottow is wearing her black gown. She doesn't wear this all the time, only for special occasions. 'Today is one of those. It's the Dies Natalis, the Leiden University's birthday. This afternoon the professors walk in procession through the centre of Leiden. They call this the cortège. At the head of the procession is the boss of the University, the Rector Magnificus. In front is the beadle. He leads the procession to the Pieterskerk church. So you've already learned some difficult words, haven't you?' she laughs: cortège, rector, beadle and Dies Natalis.
Female professor
The children want to know what the Dies Natalis is like. Ottow shows them a photo of the cortège, with male and female professors. 'Had you expected me to be a woman?' Ottow asks. 'A man,' someone soon calls out. Ottow emphasises that women can also be professors. At the end of the lesson, Ottow says she had found it 'great fun'. 'The children were really curious. They are uninhibited and aren't afraid to learn difficult things.' Hilde, their teacher, is enthusiastic too. 'It was an interesting glimpse of a world that the pupils weren't aware of. Professor Ottow emphasised in her lesson that children can be what they want to be, that they should dare to dream! I hope she's inspired them.'
Physicist Jan van Ruitenbeek at Maria Montessorischool

Van Ruitenbeek gives a demonstration with a wheel.

Mariëlle Bruning gave a lesson on youth justice.
Lessons from other professors
Other Leiden professors also gave a lesson at a primary school on 8 February, and the general consensus was that this was a special experience, for both the children and the professors. A number of professors went to schools in The Hague, including physicist Jan van Ruitenbeek and professor of law Mariëlle Brunnig. They received a warm welcome at Maria Montessorischool in The Hague.
In Radio Weetlust, the Leiden European City of Science 2022 radio show, Annetje Ottow explained more on 8 February about the Dies Natalis and what motivates her.
Text: Esther Bügel
Photos: Mark de Haan