Language as a weapon: alumna Femke Eisma is the spokesperson for the government commissioner on sexual violence
It is one of the most talked-about subjects right now: how do we eradicate sexual harassment and violence? Alumnus Femke Eisma is the spokesperson for Mariëtte Hamer, the government commissioner tasked with tackling this persistent social problem. Eisma studied the Dutch language at Leiden. How is her degree helping her now?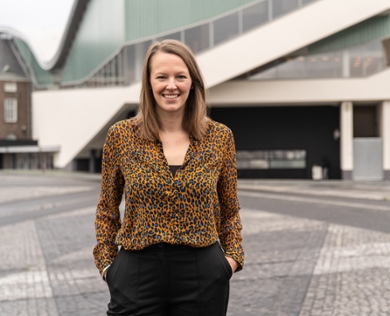 Following the revelations about the Dutch television programme The Voice of Holland, more victims are reporting rape or other forms of sexual harassment. It's become quite clear that the problem can arise everywhere; at a professional football club such as Ajax or a political party such as D66. As a figurehead, government commissioner Mariëtte Hamer must address the problem and instigate a cultural change. She is doing that together with the members of her team, including Femke Eisma.
'After each upsetting story in the media, the phone here is ringing off the hook', she tells us from her office in the high rise of the Ministry of Education, Culture and Science. Journalists want to know what the government commissioner's opinion is and which measures are necessary. 'As a spokesperson, I'm responsible for press contacts and I supervise press conferences. I also take care of the communication on our website and social media. And I write speeches, in consultation with Mariëtte Hamer and my colleagues.'
'A good speech can move people and activate them.'
The power of a good speech
Language is an important weapon in the fight against sexual violence. Eisma studied the Dutch language and culture at Leiden. 'I chose that programme because I wanted to be a journalist and for that reason, I also took a minor in journalism and new media. But I realised that communication and informing the press – 'the other side' - was more my thing.' She enjoyed the degree programme. 'Dutch is very broad, ranging from language proficiency and linguistics to literature. I particularly liked the rhetoric courses: how you can get a message across clearly and convincingly whether in the form of a speech, a television appearance or a newspaper article. So that course definitely helps me in my current work, when writing speeches, for example. A good speech can move people and activate them.'
How did this graduate from Leiden land this job? 'My first job after I graduated was as a communication advisor to the Dutch National Rapporteur on Trafficking in Human Beings and Sexual Violence against Children. That seems to be a recurring theme in my career. The victims' stories move me and I want to help tackle these issues. We want to create awareness and a culture change but that's only possible with help from all of society.'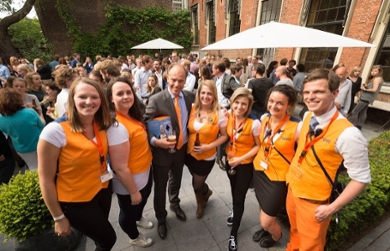 Learning from the EL CID
The young alumnus also learned a lot from her board and committee work during her degree. In 2014, for example, she was on the EL CID board that organised the introduction week for thousands of first-year students. She also organised the 440th anniversary of the university in the Pieterskerk. 'By being involved in activities like that in addition to my studies, I discovered that there are more hours in a day than you realise if you're only studying. I learned how to tackle things and deal with parties that could sometimes be difficult and very diverse organisations such as the municipality and businesses. And all that too is really useful in my current job.'

Her advice to students
Eisma is now 31. With all that she's learned, does she have any good advice for today's students? 'First of all, enjoy your student days – they're over before you know it. And it helps if you're already thinking carefully about what you really enjoy doing. I was interested in communication and one of the things I did was a communication internship with the National Rapporteur on Trafficking in Human Beings and Sexual Violence against Children. That worked out so well that I was able to stay on as a communication advisor and immerse myself in the subject. Without that internship, my career might have gone very differently. So have a good look around during your studies and try things out that motivate and interest you.'
Photos: Judith Adriaansen