Three main results of VVI's Strengthening Legal Education in Eastern Indonesia (SLEEI)
Although fighting the culture of top-down education and stimulating lecturers' confidence to adapt courses to local context priorities is no easy job to complete in three years, the "SLEEI inheritance" already has three main components.
After 2.5 years of hard work, the partners in the NUFFIC OKP supported SLEEI project met in Mataram, Lombok, from 28 to 30 March 2022 to share their results, the lessons learnt, and to discuss priorities for further action. Attended by 79 participants live and another 75 on-line representing law faculties, legal professional organisations and other stakeholders, the national conference sparked lively debates on "Innovation in Legal Education in Indonesia".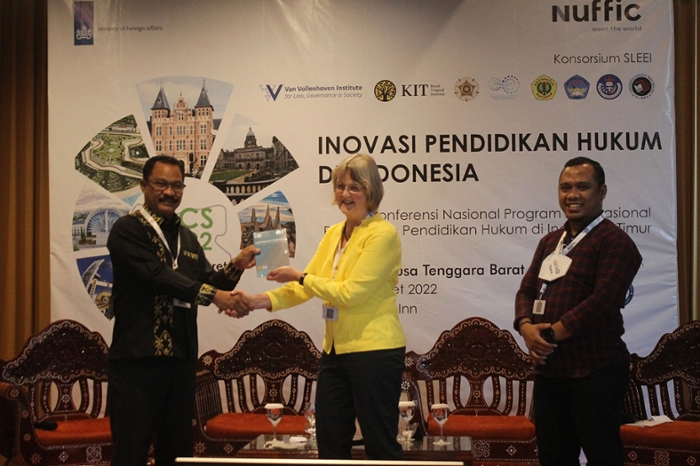 The first main result was unexpected. Lecturers at the four Eastern Indonesian partner universities had not just loosely integrated SLEEI themes in their teaching, they had decided to write study guides for their own courses, books of 75-100 pages summarising the content of their courses that now include parts on gender, ethics and "local law". This is a most wonderful result in terms of sustainability of the SLEEI approach. The second result was that the conference participants – including law lecturers from 20 universities that have not been part of SLEEI – committed to continuing and expanding the work of SLEEI through a joint declaration of 18 recommendations for further cooperation: "We really hope that the SLEEI process of 'colouring' the system for legal education in the country will continue".
Third is the comprehensive Resource Guide on Strengthening Legal Education in which the training materials are summarised and made available to all law lecturers who want to innovate their own law course. The guide is written in Bahasa Indonesia with many examples from East Indonesia. It will be used in the upcoming NUFFIC TMT training in which the VVI will cooperate with the Brawijaya University of Malang and other local experts, and will be core material for the new Association of Socio-legal Studies in Indonesia.
Would these experiences from SLEEI in Eastern Indonesia – its approach and ways of integrating elements of Law and Society in the curricula – be relevant and applicable in other countries? That is a question we will discuss with international colleagues in the seminar "International Cooperation for strengthening legal education" that will be organised by VVI on 16 June 2022 in Leiden and online.