'Standing Room Only' at eLaw's CPDP Panel on 'Dark Patterns and Data-Driven Manipulation'
With the conference circuit slowly reopening after Covid forced almost all academic interactions online, thousands of conference attendees descended on Brussels for Europe's largest technology conference. eLaw's annual sponsorship of one of the many CPDP conference panels brought a diverse range of experts in consumer and data protection law together to discuss the 'new deal for consumers' and how the Unfair Commercial Practices Directive could provide a broader range of measures and enforcement mechanisms than presently available under the General Data Protection Regulation (GDPR). With over 300 conference attendees present, it was standing room only for eLaw's panel on 'dark patterns and data-driven manipulation'.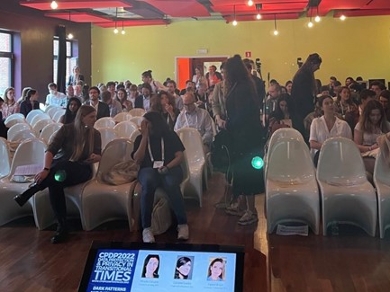 eLaw's own Dr Mark Leiser moderated a panel consisting of Dr Mireille Caruana, Head of Department at the University of Malta, Dr Catalina Goanta, Associate Professor at Utrecht University, Egelyn Braun, UCPD Team Leader at the European Commission, and Agustin Reyna, Director of Legal and Economic Affairs at the European Consumer Organisation (BEUC). Audience members filled the room to hear how the European Union's consumer law acquis could protect consumers from various forms of manipulative interface and system architecture design, commonly referred to as 'dark patterns'.
Egelyn Braun, UCPD Team Leader at the European Commission added: 'Ultimately, the panel highlighted the untapped potential of the UCPD, and EU consumer law more generally, in regulating dark patterns and data-driven practices, including behavioural advertising. Despite the presence of numerous legal instruments that regulate these issues, the panellists and the questions from the audience pointed at the open-ended interpretation of the existing rules (such as the concept of a "transactional decision" in the UCPD) and their ineffective application in practice through private and public enforcement.'
Dr Leiser summarised the panel as such: 'It was a pleasant surprise to see "standing room only" at the Area 42 Grand Hall for eLaw's panel on "dark patterns and data-driven manipulation". In hindsight, it just reflects the interest in the topic and the desire for the snap/primer education in consumer law provided by the panellists. What was interesting about this discussion is the overwhelming consensus that regulatory pluralism is needed quickly to combat the problem of manipulative platform design.'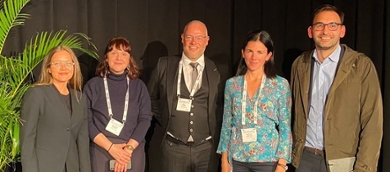 eLaw graduate and fellow CPDP Conference Panellist Taner Kuru added: 'It is not the first thing that you would expect to hear at a conference such as CPDP that another legal framework could better address one of the most pressuring issues related to the online world than data protection! I think Professor Leiser and his panellists did a great job in conveying their message in the most convincing way to a cohort consisting of privacy and data protection enthusiasts who sometimes tend to overlook how we can benefit from the tools that already exist in other frameworks. The panel was an inspiring and thought-provoking one!'
Held annually, CPDP is a world-leading multi-disciplinary three-day conference in Brussels on Computers, Privacy & Data Protection. CPDP attracts academics, lawyers, practitioners and policymakers from industry and civil society to a knowledge exchange of the latest and emerging issues and trends. Students enrolled in the Advanced Master in Law and Digital Technologies attend every year as part of their study programme.