Reporting from ESOF: 'How can we use science to solve the next crisis?'
From global warming to the decolonisation of knowledge. At the EuroScience Open Forum (ESOF) in Leiden over 500 speakers from 60 countries have come together to discuss the big themes of our times. Why have the delegates come?
Italian, Chinese and German are just some of the languages sounding through the corridors of the Kamerlingh Onnes building, one of the ESOF conference locations. This week delegates from all over Europe and beyond have pitched up in Leiden for the largest multidisciplinary science conference in Europe. 'Today we're celebrating science,' says Meta Knol, Director of Leiden European City of Science at the opening. The forum, parts of which are also online, has the theme of crossing borders, engaged science, resilient societies. For four days the focus lies not on the disciplines but on the will to look together at scientific and societal issues – such as inequality in the world and global warming. And this is how a medical scientist can suddenly be seen bouncing ideas off a psychologist and an astronomer.
'I'm going to tell my students about the new ideas I get here'
Alongside academics and students, international officials have come to the forum. 'With Russian aggression moving borders and after two years of the pandemic, science is more important than ever,' says Jean-Eric Paquet, Director-General of Research at the European Commission. 'A conference like this can bring us together.' Carl Johan Sundberg, Euroscience Treasurer, puts it this way: 'Europe needs independent arenas like this to discuss science.' What do other delegates think? We spoke to five of them between the sessions.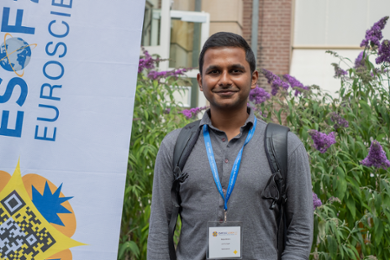 Satya Ammu, PhD candidate at Delft University of Technology
'I'm normally really specialised and research 3D printing techniques. I wanted to come to this conference because of the theme of how science can influence society. My first session was about science communication. I'm trying to be more active on Twitter, so it's good to hear what's going on. It was also about the familiar fear of negative reactions that makes some scientists wary of social media. I also agreed that more research is needed into how the public views science. I'm going to a session on entrepreneurship in a bit because I might start a start-up at some point.'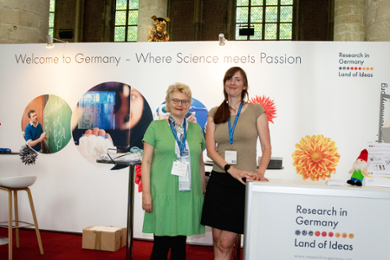 Anne Knab, political scientist and staff member at the German Academic Exchange Service.
'My colleague and I want to make participants aware of the academic options in Germany: to do research or work with German universities. ESOF attracts active members of the scientific community, which makes it good for us to be here. I'm also going to a few sessions: social themes like sustainability appeal to me most. It's all about the question of how science can help us solve the next crisis. I hope we can inspire one another here in Leiden and online, and that this forum results in concrete action.'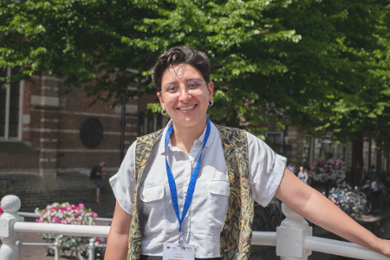 Marilù Casini, PhD candidate at Universitat Politècnica de València (Spain)
'I've just come from a session on the future of research: how we can make science greener and more inclusive. It was a lively discussion. We all want to be more sustainable in our work but how do you go about that in practice? As a biotechnologist, I research stem cells and in the lab we still work with too many materials that are thrown away too easily. We want to use more sustainable materials. I'm going to tell my students about the new ideas I get here because things really have to change.'
Lidia Borrell-Damian, Secretary-General of Science Europe (Belgium)
'My organisation, Science Europe, is an association of European grant providers like the Dutch Research Council (NWO). This forum is a fantastic chance for us to connect with researchers and others from the academic world. We want to know what's going on and what people are concerned about. We're here with a few team members and are spreading out over different sessions like this one on open science and global health. I attended ESOF online two years ago because of all the covid measures and then it's hard to strike up a conversation with new people. It's great to meet up in person again.'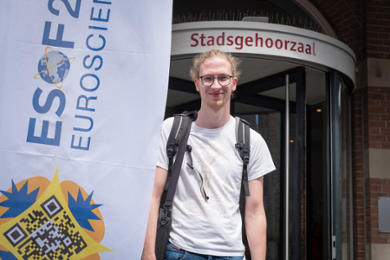 Tim Renner, journalism student from Dortmund (Germany)
'I'm here with a group of fellow students. We're at ESOF to look for interesting topics to write about. We came here with an open mind so it can be anything about how science can help society. For instance, using drones to fight wildfires or analysing crisis management in disasters. Our professor advised us to do plenty of networking too. So we're also going to the press conference and can gain a bit of experience in journalism.'

Text: Linda van Putten
Photos of interviewees: Lina Torres