Dr Farouk El-Hosseny joins the teaching staff of Grotius Centre as Visiting Assistant Professor of International Law.
The Grotius Centre for International Legal Studies is delighted to announce that Dr Farouk El-Hosseny will join the teaching staff as Visiting Assistant Professor of International Law.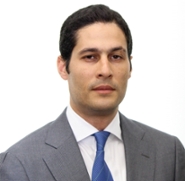 Dr El-Hosseny holds a PhD from Leiden University. His thesis, Civil Society in Investment Treaty Arbitration, was published by Brill Njihoff in 2018. He is also a Senior Associate at Three Crowns LLP in London where he advises states and corporations on international disputes. He regularly acts as arbitrator in proceedings under the auspices of the International Chamber of Commerce and the Permanent Court of Arbitration. His interests cover public international law, international investment law, business and human rights and commercial law.
Previously, Dr El-Hosseny was a visiting scholar at the Lauterpacht Centre for International Law at the University of Cambridge. He obtained a bachelor's degree in civil law from the University of Ottawa and an LL.M. from the University of Montreal. He is a member of the Quebec and Paris Bars.
At the Grotius Centre, Dr Farouk El-Hosseny will coordinate and teach the course on 'Proceedings before International Courts and Tribunals in Practice' within the framework of the Adv. LL.M. in International Dispute Settlement and Arbitration. This course is aimed at exposing students to some of the key practical aspects relating to the conduct of proceedings before international courts and tribunals. With core theoretical and substantive principles of public international law and international dispute settlement acquired in the other courses offered by the programme, students will gain insider and practical knowledge into how to participate as effective advocates in those proceedings.