Leiden University wins the Manfred Lachs Space Law Moot Court Competition
The Leiden University team representing the International Institute of Air and Space Law (IIASL) won the World Finals of the Manfred Lachs Space Law Moot Court Competition that took place in Paris on 20 September 2022.
The Leiden Team was composed of Gabriella Mifsud and Michael Gould, who graduated from the Advanced LL.M. in Air and Space Law in August 2022. The team was coached by Dimitra Stefoudi, IIASL PhD Candidate and Miraslava Kazlouskaya, IIASL alumna. The World Finals were judged by judges from the International Court of Justice. Judge Peter Tomka presided the session and was joined by Judge Xue Hanqin and Judge Georg Nolte. The team also won the Eilene M. Galloway Award for Best Memorials. The team competed against the finalists from the African Rounds in the semi-finals and against the finalists from the North American Rounds in the finals. The IIASL is extremely proud of its students and congratulates them warmly on this excellent result.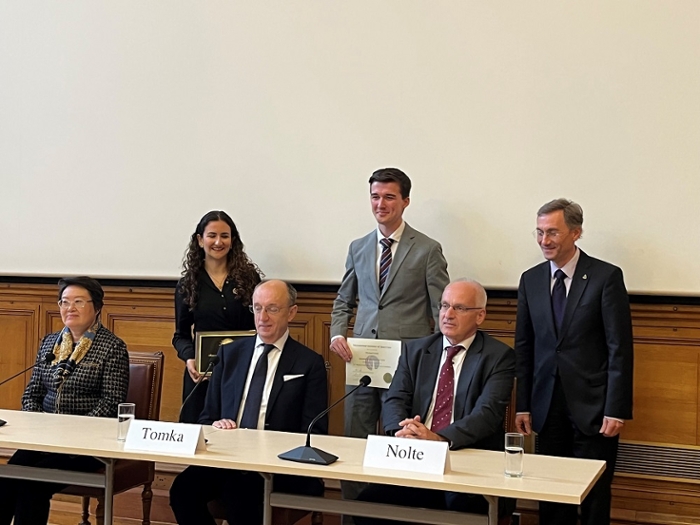 This year's case concerned registration of space objects and damages involving objects manufactured in space. The Manfred Lachs Space Law Moot Court Competition has been organised by the International Institute of Space Law (IISL) since 1992. The team won the European Rounds that took place virtually from 22 to 28 March 2022 and were hosted by the University of Vienna. The European Rounds take place under the auspices of the European Centre for Space Law (ECSL) and are judged by distinguished law professors and practitioners. The European Center for Space Law sponsors the participation of the winners of the European Rounds to the World Finals of the competition and to the International Astronautical Congress that take place at the same time.