Soup and swimming: Volunteering while at university
During the Faculty Introduction Week, new bachelor's students of the Leiden Law and Criminology programmes were introduced to learning and living the university way. The information market on Tuesday focused on student life instead of prioritising studying. Study associations explained what they had to offer students, and volunteer organisations showed students what they could do for others during their time at university.
Rapenburg Race
Maarten: 'The Rapenburg Race is a swimming contest in the Rapenburg canal, organised by students. The purpose is to raise money to improve the quality of life and treatments for people with paraplegia. We're the only charity to support this. It's a small patient population but deserving of the attention nonetheless. You swim from the beginning of the Rapenburg all the way to the end, where you're arrival is celebrated with food trucks and beer.'
Why do you think it's important that students gets involved with an organisation?
Maarten: 'Studying is great fun and definitely important. But I also believe that your time at university is also a good opportunity to look around to see if you've something to offer to others. Students, in general, have it relatively easy and I think that's why it's so important for students to reflect on what more they can do.'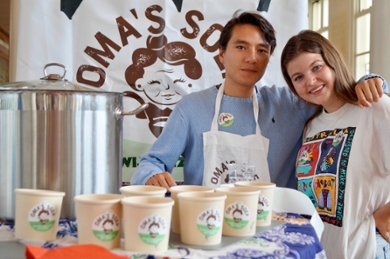 Grandma's Soup
Renske: 'Grandma's Soup' (in Dutch, Oma's Soep) is a concept in which we connect students with lonely senior citizens in Leiden. We do this twice a week. Thursday is cooking day, when we visit an old people's home to make soup with the residents. On Friday, it's soup-at-home-day. When we package Thursday's soup and students take it round to elderly people living in Leiden.'
Why do you think it's important that students get involved with an organisation?
Floris: 'You learn so much. On the one hand, you make a lonely elderly person incredibly happy and on the other hand, there's a lot you, as a student, can learn from these people.'
Renske: 'Not only do you bring soup, you also have a chat and that can really brighten their day. You can do it once, but you can also choose to visit the same person more often. That way, you can really create a bond with these senior citizens.'
The Rapenburg Race takes place on 17 September. It's no longer possible to register, but you can still donate and/or come and watch the event.
Interested in helping out at Oma's Soep? Taking part is without obligation and you can register any time you like.