Exhibition sculpture 'Zie Justitia' at Leiden Law School extended until January 2023
The art committee of Leiden Law School has extended the exhibition of the sculptures by the Leiden artist Koen de Vries in the C-wing of the KOG building until January 2023. On Thursday 8 December, the finissage of the exhibition will take place in the C-wing at 16.45 hours with drinks and light snacks.
About the artist
De Vries trained as a sculptor at the Hogeschool voor de Kunsten Constantijn Huygens in Kampen (1984-1988). Last year, he won the 'Ars-kunstprijs', an award presented by Ars Aemula Naturae in Leiden.

He calls himself 'Beeldhouwer in Beweging' (Sculptor in Motion) and believes that the long tradition of portrait art does not reflect the dexterity of humans. With his sculptures De Vries hopes to change this by showing humans in motion, both physically as well as mentally. Which is why he has let go of the static portrait tradition and is now working in the new sculpting tradition by artists such as Rodin, Boccioni, and Bacon.

They also conveyed theatre, psyche, and movement in their sculptures. But most of his fascination has been captured by the portraits by Italian artist Medardo Ross (1858 – 1928). With the influence of film, according to De Vries, it has also become necessary for the portrait to show movement. Which is why he, similar to the 19th century photographer Eadweard Muybridge, dissects the movement of his characters image by image in order to apply them in the new tradition of portrait art.

'With the sketch-like sculpting style I developed, I create portrait busts for the 21st century. The human facial expression is one of the most direct and elementary forms of communication. Everybody can "understand" it.'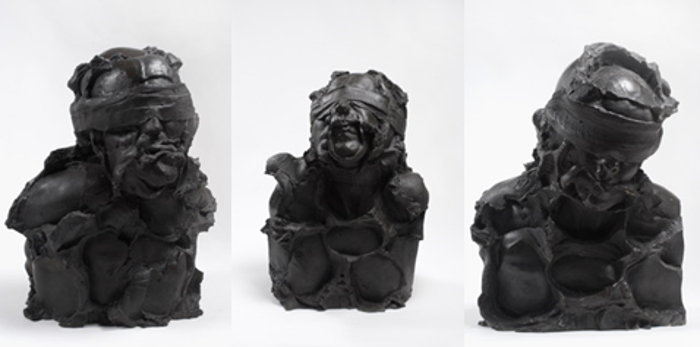 Gagged and blinded the body switches to the other senses. Robbed of your human dignity, you enter into survival mode. The remaining senses attempt to compensate for what the eyes can no longer see, stress transforms you into a caged wild animal.

The similarities with Lady Justice are obvious and poignant. She too has been blindfolded but she has no role to play in this game of dominance, or in retrospect at best.