New Cleveringa books donated to Leiden University
Two Cleveringa books from Theo ten Kate's law library were donated to Leiden University by grandson Sebastiaan ten Kate on 24 November. They are the dissertations of W. Hugenholtz and J.G.L Röder, both PhD students of Rudolph Cleveringa. Ten Kate: 'The University is the right place for the books. Here, together with the books already donated, they form part of a larger whole.'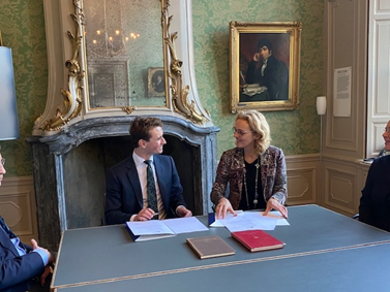 Sebastiaan ten Kate is donating the books on behalf of his grandparents Theo ten Kate and Hiltje ten Kate-Cleveringa, the youngest daughter of Rudolph Cleveringa. 'My grandparents met while studying law at Leiden University. Last year they both passed away. While clearing up, I came across these books in my grandfather's bookcase, with a note from my grandparents that these books were promised to the Cleveringa Institute on 18 February 2003'. The two books will be added to the already existing Cleveringa collection at Leiden University. 'I am extremely grateful that the University wants to take care of the collection and the history associated with it.'
The historical value of the books is not only related to the intellectual content of the texts. Ten Kate explains that Cleveringa kept various items in the books; notes on developments related to the subject matter, but also personal memories of his PhD students. 'Inside the covers of the books, you'll find various mementos. For example, the dissertation by Hugenholtz contains a photo of the dinner after his PhD ceremony, a discussion of an exam question from 1947 about attachment of matrimonial community of property, and an announcement of the death of Hugenholtz. These personal additions reflect a personal interest and interaction with the subject matter and his PhD students. It paints a picture of the Leiden University community at that time.'
'My grandparents regularly told me about our family history. I always listened with great pleasure and attention.' On 26 November 1940, Rudolph Pabus Cleveringa (1894-1980) made his famous protest speech against the dismissal of his Jewish colleagues, and in particular Eduard Meijers. As a result, Cleveringa was arrested and imprisoned. To Mark this, Leiden University organises the Cleveringa lecture every year on 26 November. Ten Kate often attended this event with his grandparents. 'Going together to the Cleveringa lecture was always something special. At the same time, I could enjoy my grandparents' memories of their own time in Leiden. It's nice that every year another professor is asked to deepen and broaden Cleveringa's legacy about what is just.'
The Cleveringa lecture is delivered every year by the holder of the Cleveringa chair. This is a rotating professorship and the appointed Cleveringa professor deals alternately with World War II, or issues in the area of law, freedom and accountability.
The donated books are:
- W. Hugenholtz, Maritaal beslag (dissertation Leiden, 8 October 1937), Leiden: E.J. Brill 1937.
- J.G.L. Röder, De grondtrekken van het procesrecht der vrijwillige rechtspraak (dissertation Leiden, 4 May 1939), Purmerend: J. Muusses 1939.