From law student to successful entrepreneur in the water-quality industry
Yousef Yousef (39), a successful entrepreneur in the water-quality industry, just can't seem to bid farewell to the university where he did his law degree. He recently joined the Advisory Board at Leiden Law School.
When law student Yousef Yousef declined the invitation in 2009 to join the Faculty's talent group, eyebrows were raised. A professor stopped him at the entrance to the Kamerlingh Onnes building and asked if he hadn't made a mistake. 'I replied that I was going to focus on the business I had been an intern at since 2003, which was going to change the world.'
This caught the professor by surprise. 'How big is the company?' he said. 'And how is it going to achieve that?' Yousef explained that LG Sonic sold systems that stop algae growth in water with soundwaves, as an environmentally friendly alternative to chemicals. 'And you already have those systems?' 'We're working on it, with a few colleagues.' The professor didn't even attempt to hide his doubt: 'So you'll pass on the chance of a job at a big accounting firm for a nebulous little entrepreneurial venture?' But Yousef stuck to his guns and persisted with the combination of a full-time degree and a full-time job.
Sustainable solution
Yousef could already see opportunities that his bosses then at LG Sonic could not. 'The owner was focused on cleaning swimming pools. I understood why that hadn't caught on: swimming pool operators didn't feel the urgency for sustainable solutions. I realised you need governments and businesses that do feel that urgency.'
When Yousef had just started a master's at VU Amsterdam in 2011 and was still working full time, he was offered the chance of a lifetime: the opportunity to take over the business. He managed to convince a family member to invest and took the plunge. He dropped out of his master's and submitted a patent application for the sonic equipment that was being developed. In 2012 LG Sonic secured a million-euro European grant for university algae research. Soon after, the company gained the attention of the European Parliament and won about a dozen innovation prizes.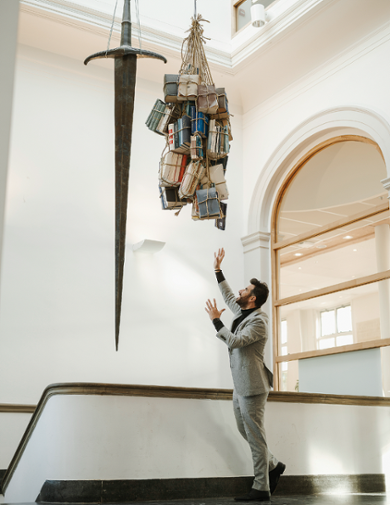 Soundwaves
The company now has a staff of 50, a turnover of millions and offices in the Netherlands, Brazil, the United States and the United Arab Emirates. 'Best of all is that we really are delivering on that promise from back then: water without algae pollution or chemicals. In short: we use soundwaves to prevent algae in lakes and reservoirs from coming to the surface and growing through photosynthesis. It makes them die off without affecting the water quality.'
The company's staff includes microbiologists, environmental technologists, technical engineers and data programmers and analysts. 'They're all people with a mission.' His track record now also includes an American nuclear plant, where LG Sonic is responsible for the quality of the cooling water. 'I wonder whether I would ever have been able to have made this impact at an accounting firm.'
Other skills
Yousef's company uses data analyses to make detailed predictions about how the water quality will develop in certain areas and with the aid of machine learning makes increasingly refined interventions that keep this quality at the desired level.
'We're not going to relinquish our lead. I would love to see more attention paid to this at universities. I like that Leiden researchers are reliable and outspoken. But the University is also a bit conservative. If the teaching methods continue to focus on reading, writing and substantive research, and the graduate of the future will mainly need skills in areas such as robotics, programming, algorithms, communication, creative thinking and data analysis, there is a mismatch. Academic training should respond better to what society and the economy need from the workforce. As a member of the Leiden Law School Advisory Board, I provide input on this.'
This is an abridged version of the interview with Yousef Yousef. The full interview (in Dutch) can be seen on page 14 of the Leidraad alumni magazine.
Photos: Frank Ruiter