'We should stop celebrating diversity. It should be a given'
Language matters. It can mean that people feel they do, or do not, belong. How can inclusive communication make people feel welcome? This was the theme of the D&I Symposium on Thursday 19 January. It was an inspiring day with personal presentations and a panel discussion that showed that talking about diversity and inclusion is not always easy.
The language we speak is full of words and phrases that are not inclusive, said Annetje Ottow, President of the Executive Board, at the start of the symposium. 'It's important to critically reflect on the words we use, and how they impact others. Inclusion starts by recognising that our experiences and perspectives differ, that our own experiences are not universal and that we cannot speak for others.'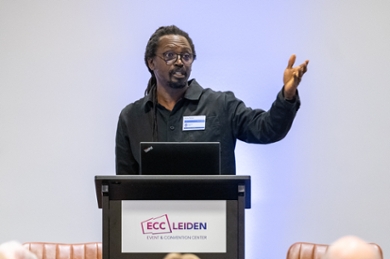 Underlying structures must change
Wayne Modest gave an impassioned speech about how institutions should talk about their failures instead of just celebrating their achievements. He is Endowed Professor of Material Culture and Heritage Studies at VU Amsterdam and Director of Content at the National Museum of World Cultures and Wereldmuseum Rotterdam. He gave the example of how people in Amsterdam are proud to say that almost 200 nationalities live in the city but fail to note that many of these people suffer to be part of the Netherlands. 'In the language they use, universities should place less emphasis on celebrating such things. Diversity should be a given.'
But it is not a given at many institutions. We cannot be diverse, said Modest, without using the words race and racism. And that entails addressing the infrastructure on which your institution is based. 'If you don't change that, you're going to be in a multiple personality syndrome. You try very hard to be a nice person, on the one hand, but you still have a place for non-Western art, on the other (the distinction between Western and non-Western art is outdated, ed.). Then what you're doing is actually symbolic. Once you change the infrastructure of the institution, you get more diversity.'
Putting people in boxes
Author and political scientist Mounir Samuel told a very personal story about how he as a trans man, person of colour and Christian with a visual disability was discriminated against while studying at Leiden University. On the morning of the symposium, he had stood with a stomach ache at Leiden Centraal train station because the memories of his student days are so bad. He called for what he calls 'diversability'. This means feeling like a person rather than just an identity. He is always put in boxes, he said: as a Christian, for example. 'We have to change our thinking and we have to be open to this.'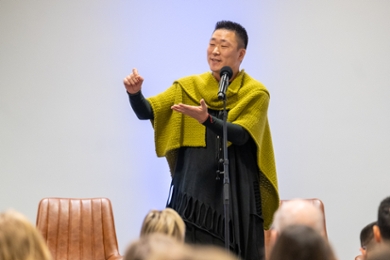 Seeing and recognising exclusion
Modest, Samuel and Ottow then took part in a panel discussion with Mark Rutgers (Dean of the Faculty of Humanities), Aya Ezawa (Diversity Officer) and Jordy Simonis (student). They discussed how policymakers can put diversity and inclusion into practice. A first challenge here – as the panel showed – is both seeing and recognising the experiences of exclusion, and reflecting on why intentions do not have the intended outcome.
Why did people come to the symposium?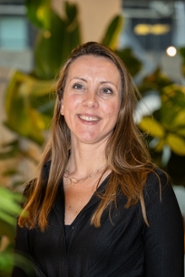 Jojanneke van der Toorn, Professor by special appointment of LGBTIQ+
'I've come to the symposium for inspiration and information on the different ways that topics like diversity and inclusion are alive and experienced at the University. And how this resonates with both students and staff as well as policymakers. The panel discussion was particularly interesting and showed the value of this symposium. The panel members had different perspectives and this caused some friction. It showed how uncomfortable the discussion on diversity and inclusion can be. At the same time, it emphasises the importance of talking – and carrying on talking – to one another.'
Kristin Makszin, Assistant Professor of Political Economy
'I hope to hear new perspectives about diversity and inclusion. My take-home message is what Wayne Modest said about rethinking polarisation. He said we shouldn't be afraid of it because it often means finally hearing voices that have been silenced. Thinking about how people worry about us not getting along and not living in a cosy atmosphere anymore. That might be because we are listening to things that should have been heard before.'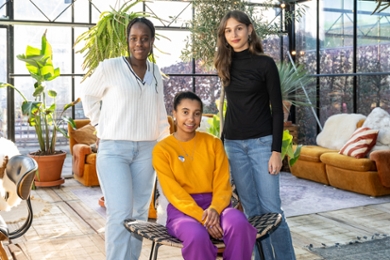 Layla Mutoka, Maya Martin and Valentina Petrucci, students
Mutoka, Martin and Petrucci came to the symposium to raise the profile of their associations. Mutoka and Martin are members of the Afro Student Association (ASA) and Petrucci of the Association of Latin American Students (ALAS). Both associations want to provide a space for students from their community to share their stories, talk about problems and do fun things together. Mutoka: 'ASA is a place where you don't feel judged.' Martin: 'It's a place to feel strong.'
ALAS is a relatively new association. Petrucci started it last year together with another student because there was no association for students from Latin America. She hopes to offer them a community and to share her culture with the University.
Study associations sign Declaration of Equity
The Declaration of Equity was presented at the symposium. By signing this declaration, study associations pledge to represent the diversity and inclusion values listed in the document. The declaration also provides guidelines on how to achieve this. Most of the study associations (51) had already signed the document. Ava Bauer, student assessor on the Board of the Faculty of Science: 'We wanted to prevent them from becoming dry guidelines, which is why we wanted to talk to others at this symposium. There were also questions from the room about what the University can do and suggestions were made. That is a new basis for keeping this discussion alive.'
The Declaration of Equity was compiled by the representatives of the Leiden assessors, the Leiden study associations, the University of Applied Sciences Leiden and the Study Association Deliberation Platform (StOP). Study associations that still want to sign the Declaration of Equity can contact StOP.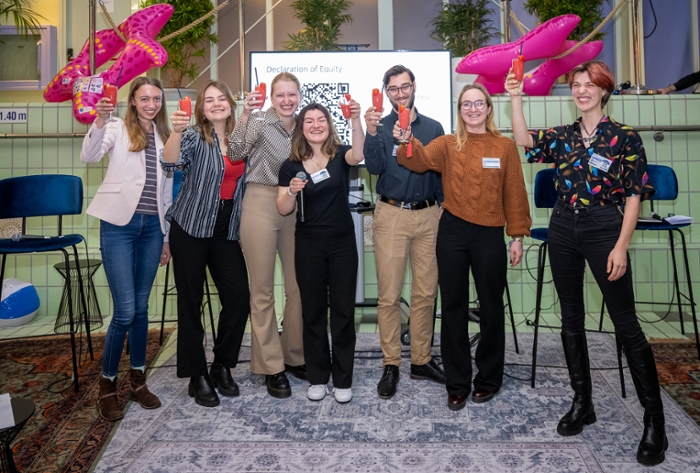 Text: Dagmar Aarts
Photos: Monique Shaw