Late physics professor from Leiden frontrunner on inclusion and diversity
For years, the late professor Marten Durieux personally mentored and funded students from Sudan to study physics in the Netherlands. Colleague Sense Jan van der Molen calls his endeavour remarkable: 'Marten Durieux has done a great job with these students, at a time when diversity was not yet a big topic. It's really extraordinary.' One of the students has now been awarded for his own work on making science accessible.
Durieux, who passed away in 2011, traveled to Sudan every year to teach physics courses. Over his career, Durieux mentored 11 Sudanese students through their PhDs and provided the necessary funding. Technician Martijn Witlox accompanied Durieux on one of his last travels to help fix the workshop machinery. He remembers the trip well: 'Mart's wish was for everyone to be able to do science, regardless of where they are from. His efforts were truly appreciated by the locals, they treated him like some kind of celebrity.'
Tino Shawish Nyawelo was one of the students who crossed paths with Durieux. He was about to leave the field due to a lack of opportunities in Sudan, but Durieux helped him to continue.
Education for refugee students
Thanks to Durieux, Nyawelo did his doctoral research in theoretical physics with Jan-Willem van Holten at Nikhef in Amsterdam. Now, he is associate professor of physics at the University of Utah and doing his bit to make science accessible to all students. 'Durieux—that's the connection that helped me, and motivated me to help others. I benefited a lot from his support to pursue physics without paying a cent,' Nyawelo said. 'I was planning on giving something back.'
Nyawelo founded REFUGES, an after-school programme to help refugee students in school thrive in science, technology, engineering and math (STEM) subjects. He said: 'I related to them. It reminded me of when I went to Italy for the first time. Science was taught in different language, in a very different system. That's how the after-school program started. Because I remember the feeling of being that vulnerable.'
'Durieux—that's the connection that helped me'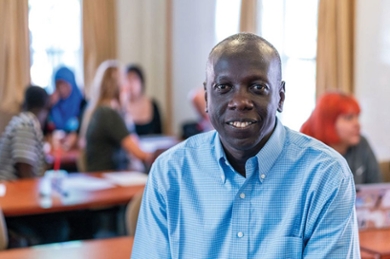 Recognition for promoting science
Nyawelo is awarded the 2023 Spirit of Abdus Salam Award for his work. The award is provided by the International Centre for Theoretical Physics in Italy by the family of its founder and Nobel Laureate Abdus Salam himself. The prize recognizes those who promote the development of science and technology in disadvantaged parts of the world.
Witlox reflects on the time in Sudan: 'Mart really lived for science. His work was crucial for the whole science department at the university in Sudan, that's quite something. It was a great opportunity to be able to join him and see the impact first-hand.'
Read more about Nyawelo's journey and the Spirit of Abdus Salam Award.