Diplomacy may look very different in space than on Earth
A symposium on space diplomacy for experts and the general public will take place in The Hague on Monday 12 June. Everyone has an interest in learning more about this topic, says Professor Jan Melissen. 'The scope of international relations has expanded beyond our planet.'
We are going (back) into space. NASA is taking concrete steps to land people and supplies on the moon in the coming years, to extract resources and learn more about what it is like for humans to live under different atmospheric conditions. All while preparing for the first manned mission to Mars. These and many other plans for the solar system affect the interests of many nations and commercial and other parties, which means space diplomacy is booming.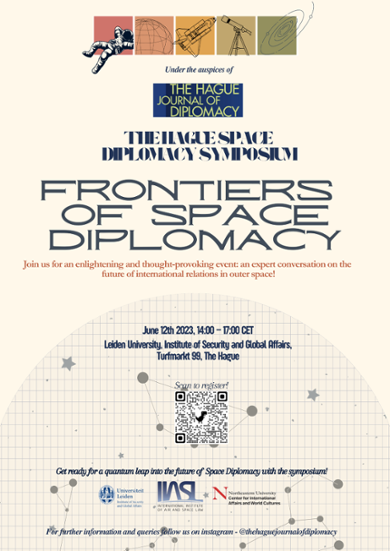 Dependent on satellites
Some experts predict that space diplomacy could look very different from how things are done on Earth, however, where conflict plays a prominent role. After all, if humans are to survive in space, they need to cooperate with each other. 'There are strong common interests, but there are also differences and many potential conflicts', says Jan Melissen, who teaches International Relations and Diplomacy and is Editor-in-Chief of The Hague Journal of Diplomacy. 'One example is our reliance on the satellites floating in space for all kinds of things. It is amazing how we have become dependent in such a short time on so many new technologies that have come to be instrumental in our daily lives.'
Plain language
Togetherness and collaboration are key themes of the Space Diplomacy symposium, which will take place in The Hague on Monday 12 June. The event will welcome representatives from a wide range of public and private organisations and space networks, as well as speakers from universities in the US, Europe and China. Scientists, experts and interested parties of all ages will debate space diplomacy. 'We want to meet and learn from each other because space diplomacy is something that is currently being mapped out', says Melissen, who will act as moderator during the symposium. 'And we want to do that in plain language because the intention is that everyone can join the conversation, from policymakers to companies and space experts to interested students. Everything that is going to happen in space in the next few years will affect us all. At the same time, space is still relatively unknown, less regulated territory for us. That is why it's so urgent that we start making good agreements now and give new generations a voice.'
The Hague Space Diplomacy Symposium
Monday 12 June, 14.00 to 17.00u
Wijnhaven, Turfmarkt 99, Den Haag
For more information about the symposium and registration see here.
Dive into the world of space diplomacy
The symposium on 12 June coincides with the publication of a special edition of The Hague Journal of Diplomacy (HJD), dedicated to space diplomacy. The journal, featuring articles by scientists from around the world, can be downloaded for free here. You can also listen to the first of two Hague Diplomacy Podcasts, with Professor Mai'a Cross. She discusses topics like the differences between traditional diplomacy and space diplomacy. Also follow The Hague Journal of Diplomacy on Instagram, LinkedIn and Twitter.