PhD candidate Anne Hendrikx: 'I had to buy an extra bookcase for my research.'
What once began as an assignment for a master's course and continued as a master's thesis, has now culminated in a substantial book. Or has it finished? Actually, for Hendrikx, this is just the beginning: 'I can finally reap the rewards of my research.'
As long as it is there in writing, everything will be fine, right? Well, that is not always the case. The words written down in an agreement are often not as clear as they seem at first glance, frequently resulting in parties arguing about what it is exactly that they have agreed on. A whole legal doctrine on the 'interpretation of agreements' has emerged in legal practice, which legal experts often find very complex. Hendrikx developed a model that should not only make it easier to determine what the agreement between the parties is, but also provide more insights into how such an interpretation is made.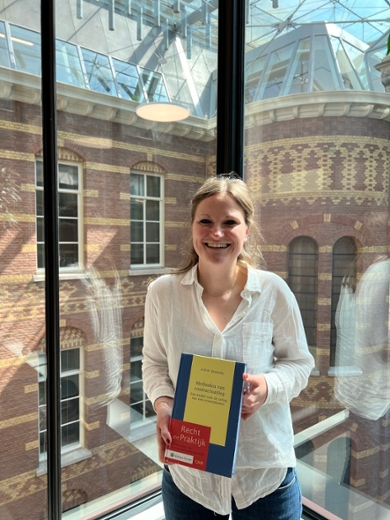 Had you always dreamed about writing a PhD dissertation?
'No, I didn't have that ambition. Going into the legal profession after my studies seemed the most logical step to me, but my thesis supervisor was enthusiastic and asked if I wanted to do a PhD. Because there were no PhD positions available, my supervisor and I looked into alternatives. In the end, I decided to combine working in academia and legal practice. I was teaching at the university, supervising theses, and doing research. In addition, I worked at a law firm and I still work there, now as an attorney.'
How did you enjoy writing your dissertation?
'I enjoyed doing it, but that's also because I was able to combine it with my work at the law firm. You have to realised that a single chapter of a dissertation can easily take up an entire year. So, it was also nice to be able to achieve some short-term successes too, such as submitting a court document. It was also helpful to work at a law firm, because I could immediately test my research in practice.'
Will you continue with this subject?
'Absolutely, it's a subject I enjoy working on. It's also nice to be able to reap the rewards of my research. So, I'm definitely not done with this subject yet.'
Many PhD candidates say that when you are writing your dissertation, you are constantly carrying something with you – the infamous little voice in the back of your head. Did you experience that as well?
'For sure, I can't remember a holiday when I didn't bring a bag of books, because I thought: "I'll be able to make some real progress". Writing a PhD dissertation is a big project and you're the only person who knows what's going on and what you're struggling with.'
What was the most exotic holiday destination where you read legal literature?
'France, because the books had to be carried along, we went by car.'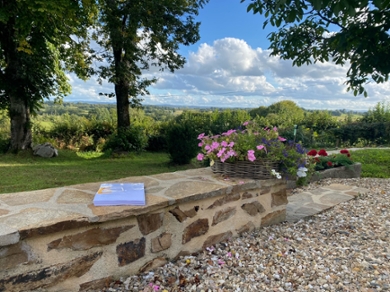 In your book, you claim your research is not exhaustive. Are you being modest or is there a practical explanation for it?
'The interpretation of contracts is such an extensive topic. So much is being published on the topic and there's a lot of case law available. At one point, I had to buy an extra bookcase to fit all my literature and case law. So, I've tried to focus on the general outlines, because I'm certain that I haven't been able to read every piece of case law that might be relevant for this field from A to Z. Hence, the modesty. Also because, after consultating with my supervisor, I had to set limits to my research at some point.'
You have not only looked into Dutch law but also into English and French law. Why?
'In my research, I've shown that in reality the impact of the differences between the legal systems is not as great as one might think, and this is especially true when it comes to English law.
For example, I studied a case from the Netherlands Commercial Court, a specialist court in Amsterdam that handles disputes between international companies. It involved an interpretation dispute to which English law applied. Together with two other authors, we looked at the question "If this had been decided under Dutch law, would we have reached a different outcome?" No, the judges would probably have delivered the same judgment. So, I definitely think that with the advent of the Netherlands Commercial Court and the Netherlands as a business location for international companies, it's important to promote Dutch law on this point.'
PhD Ceremony 20 June 2023
Hendrikx's supervisor is Henk Snijders, Professor Emeritus in Civil Law and Civil Procedure at Leiden University.
Hendrikx will defend her PhD dissertation 'Methods of contract interpretation. A model for the interpretation of a contract' on 20 June 2023 at 16.15 at the Academy building. You can access the livestream of the ceremony here.
More information
Kluwer has published the dissertation in the Recht & Praktijk, Contracten- en Aansprakelijkheidsrecht series (in Dutch). The dissertation will become available on 21 June 2023 in print as well as digitally.
You can read the English summary of the dissertation here.
Photo at the top of the article: Annie Spratt via Unsplash