Snow, a mini-cortège and a new rector: a special Dies Natalis
No procession of professors, just a handful of people in the church and snowdrifts outside Leiden's Pieterskerk: 8 February 2021 was no ordinary Dies Natalis. Carel Stolker transferred the rectorate to Hester Bijl, and Annetje Ottow became the new President of the Executive Board. With an honorary doctorate for Graça Machel, the presentation of two new books about Leiden University and an impassioned Dies lecture by Professor Ineke Sluiter, the 446th Dies is not one that will be soon forgotten.
As the bells of the Academy Building rang out at 14.45 on 8 February 2021, the beadle, Rector Carel Stolker, incoming Rector Hester Bijl and incoming President Annetje Ottow were the only ones to set off for Pieterskerk via a snowy Kloksteeg. The coronavirus measures meant no procession of professors and no packed church. Those who would be speaking during the ceremony sat at a safe distance from one another. There was an audience, nonetheless: many staff members, professors in academic dress, students and alumni – including Princess Mabel of Orange –watched from a videowall. And many more than usual tuned into the livestream of the ceremony.
Risks for researchers on social media
Researchers have a duty to share their knowledge with the outside world, said Ineke Sluiter in her Dies lecture. She is Professor of Greek Language and Literature at Leiden University and has been president of the Royal Netherlands Academy of Arts and Sciences (KNAW) since June 2020. But, Sluiter added, researchers who do so run the risk of being on the receiving end of insults or even threats, especially on social media. Female researchers and researchers from a Black, Asian or minority ethnic background are particularly likely to fall victim to this 'online vitriol' as Sluiter put it.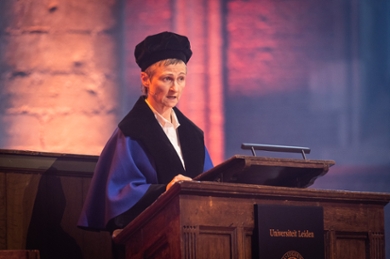 Duty to support others
Sluiter therefore had an urgent appeal to make: 'Institutions that flaunt their well-known scientists also have to take action to protect them if they find themselves in the eye of the storm. And we too, all of us, as colleagues, have to show ourselves to be "active bystanders", alert observers who don't just avert our eyes when these things happen to our colleagues. This is also inherent in Praesidium libertatis, the bastion of freedom that we wish to be.'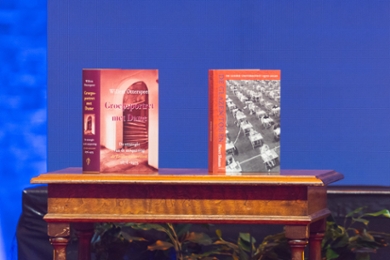 University history
Not one but two books about the University's history were presented during the ceremony. Willem Otterspeer, Professor Emeritus of University History, introduced the last volume of his series Groepsportret met dame, and spoke briefly about the years 1876-1975 (see below). And Pieter Slaman, who has continued the historiography until the present day, spoke about his book De glazen toren (see below).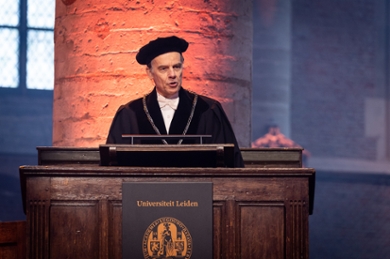 'Pride and respect were mutual'
In his last Dies speech, retiring Rector Magnificus looked back over the past year of coronavirus: 'This year, just being a university has been a Herculean task.' He addressed the students in particular: 'For almost a year, you have missed out on everything that makes a university what it is. Your resilience, your high spirits when we did see you, your staying power – are impressive.' Stolker also noted how much we have always taken social contact for granted. 'The last thing a fish realises is that it is swimming in water,' he said, before adding, 'The crisis has shown us the power of working together. And this collaboration is something that I have seen often over the past eight years. It's something we're getting better and better at, working with one another across the boundaries of faculties and disciplines.' Stolker ended by saying that the pride and respect that he as Rector felt for the University community seemed to be reciprocal: 'I have felt very supported by you.'
Honorary doctorate for Graça Machel
After a short musical intermezzo, with a piece of music that was specially composed for this Dies ceremony by Maarten Feteris, it was time to for the next part of the programme. True to tradition, an honorary doctorate was awarded during the Dies Natalis. This year Graça Machel was the lucky recipient. This Mozambican has dedicated the greater part of her life to children's rights, fighting against child marriage and armed conflict, among others. She is currently Director of the School of Oriental and African Studies at the University of London. She was nominated by Ton Liefaard, Professor of Children's Rights in Leiden.
Advocate for peace and child rights
'Graça Machel's role as a leading advocate for peace, human rights and child rights has been of fundamental importance to improving the long-term prospects of women and children,' said Liefaard just before the honorary doctorate was conferred. 'Leiden Law School is convinced that Ms Machel will continue to serve as a beacon to many of our students and researchers here in Leiden and The Hague because for many of them she is a role model, an icon, not just in Africa but all around the world.' After Machel's words of acceptance, it was the turn of Joanne van der Leun, Dean of Leiden Law School, to pay tribute to the new honorary doctor. She did so by announcing a fund in Ms Machel's name that will enable two female students from South Africa to come and study in Leiden each year.
Graça Machel receives her honorary doctorate online: she attended the ceremony via a livestream from her home in Mozambique.

Joanne van der Leun surprises honorary doctor Graça Machel with a fund in her name.
Transfer of rectorate
This Dies Natalis marked the end of the eight years that Carel Stolker has been at the helm of Leiden University as Rector Magnificus and President of the Executive Board. Ab van der Touw, Chair of the Board of Governors, thanked Stolker for his tireless efforts as a Rector and a connector. 'During his Rectorate, the University became more of a community on all levels: a community between the Executive Board and faculties, and within the faculties and institutes.'
Unifying, inspirational, witty
Van der Touw also looked back at Stoker's long career at the University: as a law student, PhD candidate, dean and the past eight years as Rector. He concluded by mentioning Stolker's characteristic leadership style. 'On behalf of the academic community I would like to thank Rector Magnificus Stolker for his vision, his sense of duty and the inheritance that he in turn leaves Leiden University. We have experienced him as: visionary, unifying, friendly, erudite, inspiring, a moral authority and witty, but never too much.' Then it was time for Van der Touw and beadle Erick van Zuylen to unveil a portrait of Stolker.
Chain of office handed over
For his part, Stolker thanked the academic community for its trust in him, and his family for their unconditional support. He also expressed his thanks for the many retirement gifts, including the Leiden Empowerment Fund for first-generation students and researchers. Then it was time for the solemn part of the transfer of rectorate. With somewhat of an effort, Stolker removed his chain of office: 'You can see it's been hanging there for eight years!' The beadle – dutifully following the coronavirus rules – cleaned the chain before offering it to Hester Bijl. She is the first female Rector Magnificus in the history of Leiden University.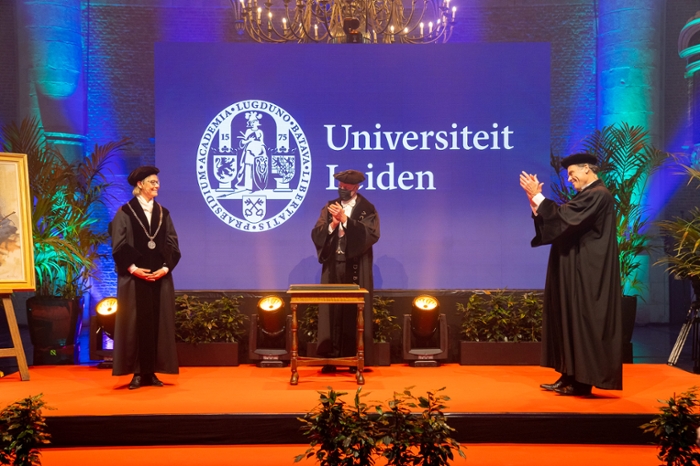 Eye to tradition and to the future
Having had a combined Rector and President for over 15 years, from today Leiden University once again has a Rector Magnificus in its purest form, Bijl remarked as brand-new Rector. She was referring to the new composition of the University's Executive Board: Annetje Ottow is the new President of the Board and Martijn Ridderbos remains Vice-Chairman. Bijl: 'Having served as Vice-Rector for four years, I consider it a great honour to be able to take up this wonderful post at this equally wonderful university, a university with an eye to tradition and an eye to the future, with a broad spectrum of academic disciplines and teaching programmes, with wonderfully driven students and staff from home and abroad.
Respectful dialogue
Good teaching and research rely on freedom of speech and thought, Bijl said. 'Hence our motto of Praesidium Libertatis. Maintaining such freedom goes further than words alone; it calls for an active mindset and sense of responsibility. It demands careful efforts to ensure that different currents of thought are to be found within our walls that come into respectful contact with and readily engage in dialogue with one another.' She also emphasised the importance of well-being, particularly during this enduring coronavirus crisis. Many students and staff are struggling, but there is a great feeling of solidarity, Bijl said: 'Let us make sure we continue to keep an eye on one another and do not exclude people. As Rector, I stand firmly for of an inclusive and diverse university community: a place where everyone is welcome.'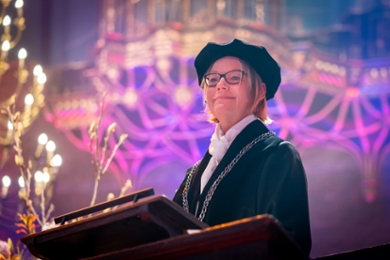 Royal honour
At the very end of the ceremony there was one more surprise in store for the now former Rector Carel Stolker. In the presence of his wife Anneke, Stolker was awarded a royal honour by Mayor Henri Lenferink. Stolker has been made an Officer in the Order of Orange-Nassau, in part for his love of the city of Leiden, which he has translated into collaboration in many different fields and with many different parties in the city. Stolker's wife Anneke pinned the medal to the robe of a visibly emotional Stolker. Then, true to tradition, the Wilhelmus, the Dutch national anthem, rang out. And with one last wave from the audience on the videowall, this unique Dies came to an end.
Carel Stolker is made an Officer in the Order of Orange-Nassau
Photos: Marc de Haan and Monique Shaw
The sound quality of the connection with honorary doctor Graça Machel was suboptimal. You can read the full text of her acceptance speech here.