Flash interview with alumnus and new Faculty Advisory Council member Yousef Yousef
Yousef Yousef is a 'self-made man'. But he first obtained his bachelor's degree in tax law in Leiden. 'A CEO needs to have a basic understanding of the principles of law', he says.
What did you study and when? What made you choose Leiden?
I did a bachelor's degree in Tax Law and graduated in 2010. Then I started a master's in Amsterdam, but stopped mid-way because I had the opportunity to start up my own company. I chose Leiden University because it had a good reputation and you could specialise at an early stage in the programme. What also influenced me was that my brother and sister were already studying law in Leiden and my original plan was to start up a company with them.
Was it what you expected?
Definitely. In the first year, of course, all students studied the same courses. But after that, all my friends chose the general law degree and only a small group chose to specialise in tax law. A lot of the lectures were in the evening because most lecturers had a different job during the day. So it didn't feel like being at 'school' and we were taught in a different way. The classes were really great. I was also invited to join the Honours group even though I didn't have the highest grades. The lecturer said that I was able to think 'out of the box' and that was considered just as valuable as good grades. Unfortunately, though, I didn't have enough time because I was working full-time as well as studying.
What kind of a student were you?
I was working full-time, as I said, besides my studies. I had a small, but close group of around 8 or 9 friends. Even though I was either working or studying hard, we had a great time together and still keep in touch. I wasn't so much a serious student, but rather a serious person actually. My job was really important to me as well as my studies. I was already looking to the future. It was a difficult combination, but it paid off in the end.
Is there a particular moment as a student that you would like to, or dare to, share?
Aside from some drunken escapades, there was one occasion during a tutorial class. The teacher was really strict and he always randomly and unannounced chose a student to give a presentation about what we had learned. I wanted to avoid getting chosen that day because I hadn't been able to prepare properly. So I was really active participating in the class discussions, hoping that he wouldn't pick me. But, of course, for that reason he did choose me. I did have the option to say no, but I decided to accept the challenge. I pretended I was a consultant giving advice, didn't refer once to anything in the law (I hadn't a clue). The teacher thought it was a great performance and I actually got a really good grade!
I also clearly remember Paul Cliteur's classes. They were my first introduction to legal philosophy. What interested me most was the depth of thought: questions about our very existence, what the law would be like if it wasn't regulated, insights into philosophical visions.

If you could turn the clock back and be a student and start your career all over again, would you take the same path or do something totally different?
I would take the same path – it turned out really well for me. I'm very proud that I achieved my goal of being a successful entrepreneur. By the way, I don't think that what you choose to study determines your life path, it's more to do with your way of thinking. I certainly learned how to think in an analytical way during my degree, but I could have learned that studying mathematics or biology.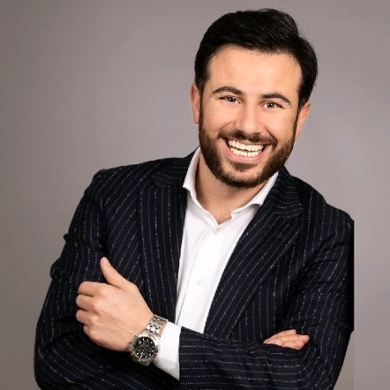 Knowing what you do now, is there something you would have liked to have studied during your law degree? A specific course that wasn't taught or perhaps an internship or something else you missed?
When I was a student, there wasn't enough focus on teaching skills. I would have liked to have developed skills on how to negotiate, communicate clearly, persuade people, how to deal with people and how to sell myself. The educational content was (and I believe still is) of a very high quality. But the gap between theory and practice is too wide.
Do you still use anything from your law degree in your current work?
The foundation of my study – the principles of law – has helped me draw up contracts and steer complex processes. My degree provided me with a sound legal training. I don't keep up with case law as much as real lawyers, but enough to be aware of the big picture. I think that if you run a large company like I do, you need a basic understanding of legal principles. I know from experience that CEOs with only a technical background frequently experience problems because they lack this knowledge of law.
You have just been chosen as a member of the faculty's Advisory Council. How important do you believe the Council is for the faculty and what do you hope to contribute?
The importance of this kind of Council does not depend on the members, but on the fact that the recipient of your advice actually wants to hear it. The fact that the Faculty Board wants to broaden its own vision, receive critical comments about for example the future-proofness of education and wants to learn from people working in practice about how you can introduce innovation in education, is a sign of good management. It's very important to make education sustainable, so that it will still be relevant in ten years' time. The world is changing at a rapid pace – for one thing, because of the very easy access to information. My added value will be mainly in that area. My company is active in 96 countries. I'm in touch with many different universities.
As a Leiden alumnus, is there something you would like to see at our University/faculty that we don't have (yet)?
Active alumni are very important. My role on the EIC European Advisory Board has taught me that. I'd like to see us making use of a solid network and the life-long learning principle, for but also by alumni, and combining this at some kind of international alumni conference with one or two socially topical themes. This could then be a direct meeting place for alumni. I think that would be great.
What was your favourite restaurant/pub/place in Leiden?
That's easy – Annie's verjaardag!

Do you have a guilty pleasure you would like to share with us?
[Without hesitation]: I like luxury! I don't mean to be arrogant, I just really appreciate good quality. I can really enjoy it and so I'll happily spend money on it. That's kind of limited or even frowned on in the Netherlands. Everything here has to be functional, even the food. That's why my favourite place is Dubai!
Ok, to finish, what business are you in that you can afford all this luxury?
During my master's in tax law in Amsterdam, I started my own company in large-scale water treatment technology. Our customers are drinking water companies, energy companies and nuclear power stations. We currently operate in 96 countries. A nice thing about my success in my work is that I get to enjoy my guilty pleasure. But the best thing about my work is that we make an impact. What we do doesn't make people rich, but it does save lives. One great example I think is our project in Santo Domingo (Dominican Republic), where our treatment system has detoxicated the drinking water of 2.5 million people. That really gives me great pleasure, without the guilty feeling.