From working from home to hybrid working: slowly towards the new normal
Overnight, working from home became the 'new normal' for most Leiden University's employees. And now, just as abruptly, we are heading back to the office. 'But it will be different than before, we expect that most of the employees will continue to work from home for one or more days a week.' Niels Laurens, Executive Director at FGGA, talks about how the faculty will shift from working from home to hybrid working. 'We all have to get know each other again and get used to this new situation and that will take time.'
Now that the government has almost complete reversed its working-from-home recommendation, employees of our faculty are able to (partially) return to the office. Before the corona crisis, the option to work from home was available but not used that often. The pandemic has considerably sped up this process. Laurens: 'As operations management, we requested that attention was given to hybrid working, working from home, and back to the office. This has eventually led to the university's guidelines for hybrid working and the working from home facilities from the ISSC.' One of the conditions for working from home is that your job description allows it. You are also expected to come into the office for 40% of the time at minimum.
Hybrid working can contribute to a more pleasant work experience and a better work/life balance and thus promote the wellbeing of employees.
Working from home as a tool for employees' wellbeing
FGGA would like to continue to make use of the advantages of working from home. But working from home is a means not an end: hybrid working can contribute to a more pleasant work experience and a better work/life balance and thus promote the wellbeing of employees. No travel is required when working from home which also has a positive influence on sustainability and enables the faculty to make more efficient use of the available workspaces. On the other hand, meeting up with each other physically is an important factor when it comes to establishing successful collaborations. Making the campus an important location for meetings and inspiration, now more than ever.
Discuss the possibilities with your manager
What hybrid working will look like in the future depends on your own job description and the situation within your team. It requires made-to-measure solutions. Laurens: 'I think it's important to first discuss your personal needs with your manager, the manager will subsequently see how these fits within the team and then we will look at how to make this possible within the unit of the institution.' Laurens encourages everyone to start this conversation. 'It's your right to discuss this with your manager. Come to a clear agreement together on when you will be in the office and which activities you would like to do at home. Writing papers can be easily done from home, but for a team meeting it can be important for everyone to come together. Make this agreement part of your PDI.'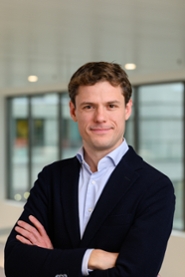 Come to a clear agreement together on when you will be in the office and which activities you would like to do at home.
Institutes get to decide what works for them
The institutes have been given a lot of freedom on how to implement hybrid working. Laurens: 'As a faculty we adhere to the university framework, but within the framework, the institute is free to decide what works best for their unit. Each institute has its own culture and is best able to decide what suits their own needs. Operational management and HR will obviously monitor the situation to make sure that everything is in accordance with the guidelines.' As an example, Laurens mentions the Faculty Bureau on the fifth floor of Wijnhaven. 'When they were asked to design their hybrid working space, they decided together to create one large flexible space, with workplaces, meeting rooms, a brainstorm room, and its own interior. We are more than happy to facilitate this because it fits well within the framework.'
Preparing the Campus for the future
Hybrid working requires some adjustments to the facilities on the work floor. Work is under way to make this happen. Laurens: 'It's important that you can make use of WIFI throughout the entire building. Not so long ago, we performed an extensive WIFI scan of the entire university to see where things needed improving. Unfortunately, we've also encountered some problems. Due to the worldwide chip shortage, we have difficulty obtaining new laptops. We would like to ask for your understanding if things aren't running smoothly every so often, but if you run into actual problems, please inform your manager so we can look for a solution.'
For the days when you are working from home the home-working allowance and the internet allowance remain in place. It also continues to be possible to request amenities for your workplace at home. We would also like to remind you of the commuting allowance.
In closing, take your time to get to know each other again
Over the past two years, employees of FGGA have had to be flexible. Laurens is well aware of the impact this has had. 'I can only be grateful for how hard everybody has worked. Now that we're heading back to the office, it's not realistic to expect that you'll continue to work with the same efficiency right away. We'll all need to get to know each other again and get used to the new situation and that takes time.'
'It was very unfortunate that, because of the restrictions, many informal meetings, such as the Christmas drinks, had to be cancelled. But don't forget that a considerable number of FGGA employees started during the pandemic. As a result, they haven't been able to meet colleagues from outside their own division. ' Laurens: 'I would like to encourage everyone to organise something so you can catch up with all that's been going on and give new employees the chance to get to know the organisation. For instance, we are organising a walk-in lunch at the Faculty Bureau on 22 March where all divisions prepare a lunch. This way, everyone can wander past all the offices to have some nice food and get to know each other (again).'
An overview of the university guidelines for hybrid working:
An employee is present in the office for a minimum of 40% of their contract, or a minimum of two days. This also applies to employees with a parttime appointment: for instance, if you are working 24 hours divided over three days, you are present in the office for a minimum of two days and can work one day from home.
An employee with a contract for 19 hours or more, with a job description that allows working from home, can work from home at least one day a week on a structural basis.
Amenities for working from home can be made available when working from home structurally for at least one day a week.
A clear agreement between manager and employee is a must, this includes both the facilities you require to perform your job properly (from home) as well as maintaining a connecting with your team.
Text: Judith van Doorn