Newsletter Student Support FSW June 2022
This Student Support FSW newsletter tells you all about the services provided by the FSW POPcorner, Career Service, and Community Engagement Service. You can read about upcoming activities and vacancies, and pick up tips on study skills, personal and professional development, student well-being, study and career orientation, and job application skills. As a student of the Faculty of Social and Behavioural Sciences, you are very welcome to make use of the services of Student Support FSW!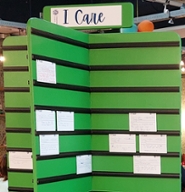 I Care pillar
Have you spotted the I Care pillar yet? This bright green pillar is almost impossible to miss. The I Care pillar is part of the FSW I Care campaign and offers the opportunity to connect with each other by matching offer and demand.

Are you looking for a buddy – to study together or do an activity together? Do you need help with studying, or can you offer help to others? Or do you want to leave an inspiring quote for your fellow students? Write your wish or offer on a card and pin it on the pillar. Let's connect!
Activities June 2022
Individual support by Student Support FSW
With all questions about the programme you are following and with personal problems that affect your study progress you can turn to the study advisor. With questions about studying/study skills and personal development in general you can, besides the study advisor, also turn to Student Support FSW.
Individual support POPcorner FSW
The POPcorner FSW wants to help you find your way through the Faculty and your study programme. Do you need support? Our POPcorner coaches can help you with questions about for example finding your way, coping with studying and student life, language help, taking exams, a complex starting situation, self confidence, starting your own project, and other challenges you may encounter while studying. Read more
(Study) career advice Career Service FSW
Interested in the career opportunities after your graduation? Having doubts about your choice of bachelor's or master's degree? No idea how to start looking for a suitable job? Make an appointment for personal advice at the Career Service FSW!
Career Service FSW also offers a free CV & LinkedIn profile check service! You can make use of this service, provided by our student assistants Read more
Student Experience
In this month's student experience: Emma's story. Emma is an alumnus of Cultural Anthropology and Social Development and completed the master's in Environment and Resource Management. Emma talks about working in the field of sustainability. Read Emma's story – and other stories – on our Instagram channel@study_careersupportfsw.