Opening ceremony Advanced Master programmes
On Thursday 8 September, the official opening was held of the Advanced Master programmes at Leiden Law School. A group of international students gathered in the Cleveringa lecture hall where Vice-Dean Ton Liefaard welcomed everyone. He expressed his joy that the new academic year can start on campus in Leiden with scholars coming from all over the world. Professor Christa Tobler then introduced the evening's speaker, Lord Martin Richardson.
Lord Richardson is an alumnus of the former LLM Programme in European Community Law (currently the Adv LLM European and International Business Law) and now a judge at the Scottish Supreme Court in Edinburgh. In his speech, Scotland and the University of Leiden – a connection both personal and historic, he took the new Advanced Masters students more than two centuries back in the past, to the time when the judicial system in Scotland was being developed and the significant influence Leiden University had in this process:
'Well, for a period of probably over 200 years – from 1600 to 1800 – it would be no exaggeration to say that Scotland imported its lawyers from the Netherlands and, in particular, Leiden. During this period, some 1600 Scottish students attended Leiden alone. When one considers that Scotland's population was only 1 million at the start of the period and only slightly over 1.5 million at the end, this was a very significant number. Using a crude average, that means 8 students every year for 2 centuries.'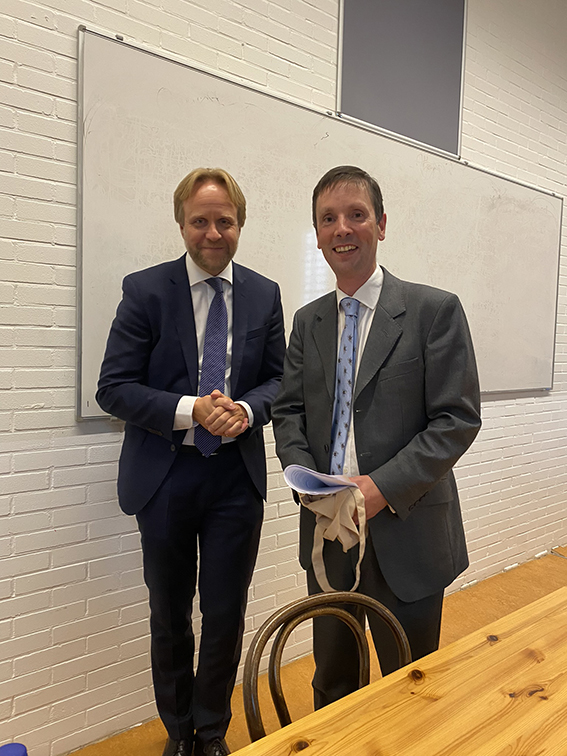 Picture: Ton Liefaard and Lord Martin Richardson
Richardson himself drew inspiration from historical figures of great significance to the judicial system in Scotland, such as James Dalrymple, Viscount Stair, Scottish lawyer and statesman (Ayrshire, 1619 -1695), Hugo Grotius or Hugo de Groot, jurist, international law (Delft, 1583-1645) and James Boswell, Scottish jurist (Edinburgh, 1740-1795).
Taking this inspiration together with his experiences during his own time as a student in Leiden, 25 years ago, Lord Richardson concluded by passing on important advice to students. In doing so, he cited a quote from the book by James Boswell who studied in the Netherlands in 1763:
'Holland certainly has a very harsh climate, dangerous to strangers who have been brought up in a temperate region There are horrible fogs and excessive cold, but especially a continuous dampness, except in the summer months. Thus a discontented man might describe the United Provinces, and I confess, with considerable justice. But when one has actually made the experiment of living there, one finds that there is no great difference between Holland and other countries; that is to say, if a stranger lives well, eats well, drinks well, and dresses well – and also takes a good deal of exercise, which in Holland is absolutely necessary to give a brisk circulation to the blood and consequently an agreeable liveliness to the mind. If one lives after that fashion and has a suitable occupation, one can be very well satisfied. I speak positively, for I speak from experience.'
Boswell in Holland (1763)
Richardson urged students to make the most of their time studying in Leiden for the Advanced LLM. 'You only have one year to learn from the very best teachers, so seize the opportunity.' He also urged them to be open to new visions and insights. 'But, he stressed, don't forget to enjoy yourself, make friends and become familiar with Dutch culture. Visit beautiful places such as the Rijksmuseum and the Keukenhof, try cycling and if possible ice skating.' Mind you, that piece of advice didn't go so well for him 25 years ago. After his speech, everyone was invited for drinks in the restaurant. It was a chance for the new Advanced Masters students to get to know each other better and raise their glasses to a wonderful, informative and inspiring academic year.